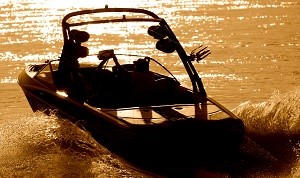 At Anchor Marine Repair, we pride ourselves on being your one stop shop for boat repairs. From the boat hull to stern, we have the team, experience and equipment to handle any repair you may need. With so many beautiful waterways around Minnesota, boating is a very popular hobby. If you are concerned that your boat may not be ready to go come spring, our team at Anchor Marine Repair should be able to help! No repair is too big or small for our crew, so what's the wait? There is a reason why we are number one in boat storm and collision damage repair, so leave your boat with us this offseason.
The 3 R's
At Anchor Marine, we focus on three areas when it comes to your boat. These focus areas include:
Repairs – No matter what brand boat, our team can handle the repairs. In fact, we will repair your boat to better than pre-accident condition! How is that for service! With over 45 years of combined experience, our dedicated team can handle your repairs all the way from the boat hull to the stern. Whether it is a structural or electrical issue, we've got you covered.
Restoration – Just because your boat may have some age on it doesn't mean that it can't look great. Let us know the look you are going for, and our restoration specialists can bring your dream look to fruition.
Renovation – Looking to enhance your boat? Whether it be renovating the upholstery, upgrading the stereo, or implementing new electronics, Anchor Marine can help give your boat a makeover.
Anchored Trust in the Boat Repair Industry
When teaming up with Anchor Marine Repair, you quickly feel like family. We strive to make your boat repairs as seamless as possible. We offer pick up and delivery services for our boat repair customers. You can trust that your boat will get the expert attention it deserves, and will be completed promptly thanks to our 10,000 square feet of combined work space.
If you are in need of boat repairs, Anchor Marine is ready to help. Put your trust in our staff and let us handle all of your boat repair needs ranging from the boat hull all the way to the stern! If you live in Minnesota, give us a call today at (763) 972-3540 to set up a free estimate and consultation with our dedicated boat repair staff.