Searching for a reliable boat repair shop can be a little frightening at times–especially when you look online. With so many different boat repair companies around Wisconsin claiming to be the 'best in town,' how can you be sure?
At Anchor Marine Repair, we know how tiresome this process can be. So, we've created a comprehensive list to help explain why we have been trusted for over 45 years throughout Minnesota and Wisconsin.
State Of The Art Facility
Our full service lake side marinas are conveniently located near Lake Minnetonka . Our repair facility allows over 10,000 square feet of space to accommodate your needs. Our facility is large enough for boats up to 38′ for your convenience.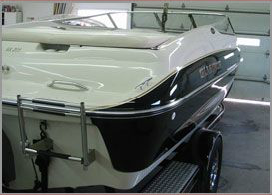 Along with our exceptional repair shop, we combine the latest technology with the best tools and products available on the market. Our boat repair technicians closely with our product suppliers, so we can guarantee your parts will be delivered quickly.
The best part, we offer boat pick-up services from your dock, home or marina for all of your travel needs. So, if your boat is parked at your cabin in Wisconsin, we would be more than happy to pick it up for you.
All of our Technicians are Experienced
We are proud to state that all of our technicians and employees are a close knit group of friends–creating an exceptional team of professionals. Each one of our boat repair technicians has been working for Anchor Marine Repair for a minimum of 10 years or more, specializing in renovation and refurbishing techniques and services.
We Offer a Wide Variety Of Repair, Renovation and Refurbishing Needs
No matter what shape of repair your boat is in need of, we have the right tools, skills and knowledge to get your boat back in the lake as quickly as possible.
We offer numerous repair services and renovations to aluminum, fiberglass, Lund, pontoon, ranger, and yacht boats, so whatever boat you have, we have the ability to fix it.
Some of the boating repair services we offer include:
Structural boat damage
Wood floor refinishing
Transom replacement
Top replacement
New upholstery
Leaking rivet repair
Boat trailer repair
Summer is almost here! Don't wait any longer to get your boat ready for boating season. If you have any questions about Boat Repair services, call Anchor Marine Repair today at 763-972-3540!