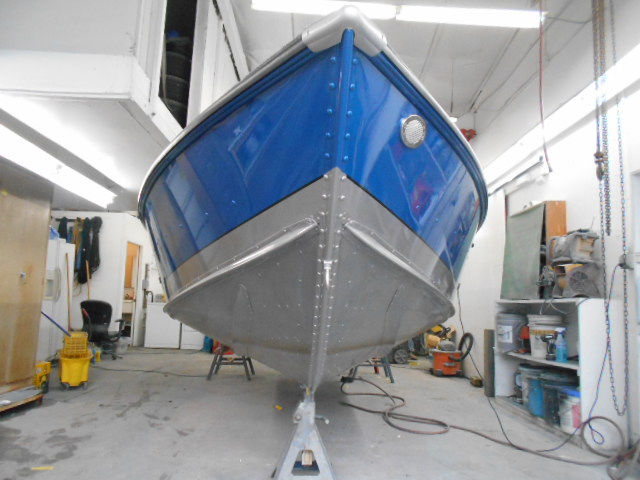 Owning a boat is a rewarding experience that can also leave you with a lot of questions. Here at Anchor Marine Repair, we've got the experience and training you can trust to ensure your boat stays in tip-top shape. Thanks to a combined 45 years of experience, the technicians in our boat repair shop can ensure your boat is in great hands, whatever your specific needs may be. We've been serving the Delano, MN area for over 10 years!
Some of our most common Marine Repair Services include:
Aluminum Boat Repair
Though aluminum boats are usually purchased for their durability, they can be prone to leaks over time. If you've got a particularly tricky leak you just can't lick, we'd be more than happy to take a look!
Boat Collision Repair
Even the most careful boat owners may eventually find themselves dealing with boat damage due to collisions. We've seen it all here at Anchor Marine Repair, and we know that this can happen to anyone. Let us help you put it all behind you and get back to enjoying your time on the water.
Boat Painting and Restoration
You've probably had a lot of great times with your older boat and unfortunately, it might be starting to show. Relive your boat's glory days and prepare to make a lot more memories after we've made it look and function like new again!
Pontoon Boat Repair
Pontoon boats have changed a lot in the recent past and as a result, many more boaters are choosing them for their recreational boating practices. We've kept up to date on all the advances in pontoon boats and we're here to help, whatever your needs might be.
Transom Repair and Replacement
This critical repair is not something you want to trust to just anyone. We understand that transom repair is critical to ensuring the safety of your boat and we know exactly what to look for when completing transom repairs.
Boat Trailer Repair
Your boat is no good to you if you can't get it in the water. Or maybe you're getting ready to pack it in for the winter and discover your trailer isn't up to the job. Here at Anchor Marine Repair, we're experienced at making sure your trailer is ready for action.
If you have any questions about boat repairs, restorations or maintenance, feel free to give us a call today at 763-972-3540! We even offer pick up services for customers. Boating season is almost here, so don't miss out by waiting until it's too late!