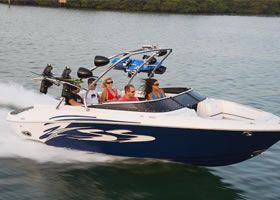 Your boat is one of your most prized possessions. It allows you to be out on the beautiful water with friends and family many months of the year, fishing, skiing, or just relaxing. No matter what you love to do on the water, you want to keep your boat safe and well maintained so that it is ready to go out anytime. Boat repairs can be costly and complicated, particularly if you go to a business that does not specialize in repairing boats. Some auto shops will claim that they can fix your boat, just like they would fix your car. But, it is always best to have your boat repaired at a shop that specializes strictly in boat repair. Anchor Marine Repair is #1 in Minneapolis boat repair. Our team has specialized in boat repairs for over a combination of 45 years and we perform fiberglass repair, metal flake repair, and aluminum boat repair for collision, structural, and storm damaged boats.
Experienced Boat Repair Technicians
What makes Anchor Marine Repair unique? Each of our technicians has chosen to stay with our shop for more than a decade. That dedication and commitment comes from a true passion for the job and that extensive experience always benefits our customers. We also use only the highest quality boat repair products on the market and we stay current on the latest technology in boat repair so that our customers can be confident that we are doing the best job possible. Finally, our team will pick up your boat for repairs and deliver it right back to your home or dock once it has been fixed to save you the added trouble and time!
We specialize in all types of boat repair services. Some of the most common types include:
Structural boat damage
Wood floor refinishing
Transom replacement
Top replacement
New upholstery
Leaking rivet repair
Boat trailer repair
Anchor Marine Repair's State of the Art Facility
Our unique facility is located near Lake Minnetonka and has over 10,000 square feet of workspace and 2 spray booths which can accommodate boats up to 38' in length. Our customer service team will give you a solid (and accurate) assessment of how long your repair will take and is happy to work directly with your insurance company to make sure that you maximize any coverage that you have. Your boat will be stronger than ever and back on the water in no time with our fast, dependable service. Call our team now at 1-763-972-3540 to talk to our staff and schedule an appointment.