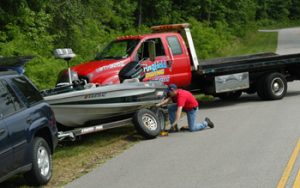 There are an estimated 10 million Americans that use boats and trailers each year. It is not unusual for the trailers to go years without good quality inspections or preventative maintenance. More often than not, owners are merely reactive to issues, as they arise. In 2020 alone, nearly 10,000 calls were received for boat trailer roadside assistance issues. The number of roadside assistance cases can be drastically lowered if owners would perform some basic preventative maintenance measures to ensure the lifespan of their trailer and components are maximized.
Tire pressure and failure: The number one reason reported by dispatch centers for roadside assistance needs were due to issues surrounding the trailer's tires. Just under 50% of calls logged needed some kind of tire repair. Low tire pressure is the leading sign of a tire's starting to fail. In many cases, the owner did not have a spare tire for their trailer, and in some cases, had a spare, but the spare tire had little or no air. Tire pressure should be checked often to ensure all tires are kept up to the recommended pressure. The spare tire should be checked anytime the main tires are checked.
Wheel bearing issues: Issues regarding the wheel bearings were the number two cause of roadside assistance calls, according to nationwide dispatch centers. One in five calls, or roughly 20% of the calls, were in need of roadside repair of the wheel bearings. If the wheel hubs on the trailer are submerged at all, the bearings protectors prevent water from getting into the components and ruining your bearings. Most trailer manufacturers recommend that bearings be repacked with grease at least once annually. If your bearings are bad, you may notice that the hubs are hot to the touch after driving at least 5 miles, or that the bearings make obvious noises. In either case, replace the bearings.
Trailer axle issues: The number 3 reason for roadside assistance needs are due to issues related to trailer axles. Just over 10% of the calls were about the axles, mainly on the trailer, but also on the vehicle towing the trailer. Performing routine preventative maintenance and periodic inspections can catch most issues with axles.
While 65% of the problems can be solved by maintaining the tires and the wheel bearings, other issues can arise with boat trailers. Issues with suspension, brake systems, tongue and coupling systems, as well as electrical issues with the trailer lighting system can all arise and cause you to park your trailer.
Boat Trailer Repair Delano MN
Don't let these issues ruin your boating season. Don't neglect maintenance on your trailer; inspect often. If you find yourself with trailer repair needs, contact the experts at Anchor Marine Repair in Delano, MN. Able to service tires, axles, accident repairs, and electrical systems, Anchor Repair is your go to trailer repair shop. Call (763) 972-3540 for trailer service. Pick up and drop off services available.