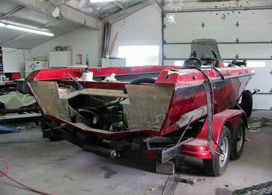 Boat maintenance and repairs are essential to owning and operating a boat. Not only are there cosmetic repairs and maintenance to be done, there are issues that can compromise the functionality and usability of your boat that must be addressed sooner than later. Transom repairs are just such an issue. When there's a problem with the transom of your boat, it's not something that can be ignored for several reasons, not the least of which is that the transom is an integral part of your boat's design. Between its necessity in helping your boat run and making sure your boat looks as good as possible, the transom should be repaired – and repaired well – whenever there's an issue. At Anchor Marine Repair, we understand the value of each element of a boat, and we take the utmost care when repairing each piece, including the transom. If you're looking for a transom repair shop in the U.S., our Minnesota shop will make sure your boat gets the attention it needs.
Importance of Maintaining Your Boat's Transom
When you own a boat, it's likely one of your more important – and favorite – investments. It's a time, financial, and even emotional investment to own and care for a boat, and the time you spend maintaining your boat should be reflective of this. Particularly when it comes to your transom, you should be sure to maintain and repair your transom because of its functionality as well as its aesthetic presence on your boat. It's often the first part of your boat people see, especially if it holds your boat's name, and it also often houses a mounted motor. There's a lot of pressure on the transom to stay strong, from rough waters to the power that goes from the motor through the rest of the boat. When your transom needs repairs or starts to wear down, the power going through your boat will begin to affect your boat's performance and can eventually cause major issues in the transom and other areas of the boat.
Storm-Damaged and Accident Transom Repairs
When your boat's transom suffers storm damage or is damaged in an accident, your boat is likely going to be unusable until it's fixed. To ensure your boat isn't out of commission for too long, get repairs done now, and don't let damage fester – especially damage that could cause rot that spreads through other areas of your boat.
Checking for Additional Repairs When Repairing the Transom
When we repair a transom, we'll look at other nearby areas on your boat, especially if there's an issue that could be spreading. We'll look over your transom, floor, and stringers to be sure the issues we find in the transom are confined to only one area. Whatever repairs you need, you can be sure that at Anchor Marine Repair, our boat repair technicians will give your boat our full attention. Give us a call at 763-972-3540, or email service@anchormarinerepair.com, and find out why our Minnesota company has customers all over the U.S. who trust us to make their repairs.