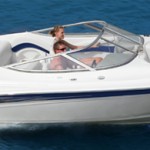 The Minnesota Boating Season has begun! Start out the new season with a newly renovated boat. Anchor Marine Repair provides convenient boat pick-up and delivery service for Minneapolis, MN area boat owners. Our dedicated technicians can handle all of your Boat Interior Repair including Seat Repair and Upholstery Replacement. Marine upholstery takes a real beating all through the spring, summer and fall boating seasons. No matter what type of boat you own, a Marine Upholstery upgrade can make a huge difference in the boat's appearance. Choose from numerous colors and fabrics that coordinate nicely with both the boat interior and exterior elements.
Boat Interior Repair
With the help of Interior Boat Repair technicians you can recreate the look of your marine upholstery and transform it into something completely custom. Anchor Marine Repair has a stellar reputation for restoring all types of boats using only quality materials. We provide nothing less when completing Boat Interior Repair. Don't forget the flooring and decorative elements for a fully restored appearance.
Boat Upholstery Replacement
Whether you want a minor seat repair or complete upholstery replacement, our qualified technicians can provide you with an outstanding job. There are several different materials to choose from. We can match existing upholstery and restore it to like-new or provide you with something completely different. Your Minneapolis, MN neighbors will be jealous thinking that you bought a New Boat but you will know that it is just a Marine Upholstery Upgrade.
Marine Upholstery Materials
Marine Upholstery has come a long way in recent years. You have several quality materials to choose from in a wide array of colors. Go with a Classic Look or something Very Modern. Coordinate your boat cushion fabrics with carpeting, awnings and canopies for a customized look. The following are examples of marine fabrics:
Dyed Polyester in a variety of colors
Vinyl Laminate fabrics
Acrylic Coated Woven Polyester fabric
Solution Dyed Acrylic
Breathable Water Repellent woven fabrics
All Weather UV protectant dyed polyester
Woven Polyester with a clear acrylic coating on back
Marine Upholstery Repair Specialists
Anchor Marine Repair has highly skilled boat repair technicians that can restore or transform any type of boat. Our Marine Upholstery Repair Specialists can do anything from seat repair, cushion replacement to complete marine upholstery replacement. With the many choices in quality materials and marine fabrics we can transform a dated looking boat into something very customized and current. Let us take care of every aspect of Boat Interior Repair for you.
In Minneapolis, MN call Anchor Marine Repair today for a Free Estimate and Expert Consultation at 763-972-3540