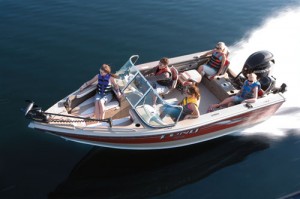 At Anchor Marine Repair, we love seeing and building relationships with our customers. Our main goal as a boat repair shop in Minnesota is that if your boat ever needs to be repaired or stored, we are the first place you call! It's not just about boat repairs, however. We as a staff love seeing our customers out on the Minnesota waters and hearing about their big catch! We are always on the hunt looking for innovative ways to enjoy your boating experience, whether it has to do with your boat specifically, or by utilizing external tools to enhance your time on the water. Recently, our team ran into a boating blog from Discover Boating, where they have highlighted boating apps to download for on the water.
Mobile Apps to Consider While Adrift
Boating apps highlighted by Discover Boating include:
Navionics Boating GPS – This free GPS app for your phone is a favorite of many boaters. Available for both the iOS and Android devices and has enhanced features that you can purchase once downloaded.
NOAA SuperRes Radar HD (iOS)/RadarScope (Android) – It is very important as a boater to keep up with the weather why you are out on the water. These apps provides an accurate radar in real-time.
Windfinder – If your boat relies on wind, this app can help you track wind patterns around your area.
USA Tides – This app is a must for those boaters who spend their time in saltwater. USA Tides provides up to date tide information for saltwater locations across the country.
Animated Knots – This app is all about knots. If you need some guidance with tying strong knots, this app has step by step visual guidance.
FishingScout – If fishing is your hobby, consider downloading this free app to become part of this social community. This app allows you post pictures of your big catch, add friends and research about nearby fishing areas.
Dockwa – Looking for a marina to dock your boat? This app allows you to make a reservation at a marina, and the payment for the slip can even be made through the app.
Swell Advantage – This social app for boat owners allows you to keep up with your fellow boating friends and see where they are boating for the weekend. This app can even track their speed!
Boatrax – Looking for a way to store important records regarding your boat? This app allows you to track records and share your boating location/pictures with other fellow boaters.
Camera App – This day in age, your cell phone camera is all you need to take pictures. Make sure you know how to use your camera before your next big boating trip.
At Anchor Marine Repair, we love to hear stories and experiences that our customers have out on the water. If you are looking for a partner that not only provides boat repair services but also keeps you engaged in new things such as these popular apps highlighted by the Discover Boating blog, then Anchor Marine Repair is the team for you! Give us a call today at (763) 972-3540 to learn more about our services and commitment to the Minnesota community.