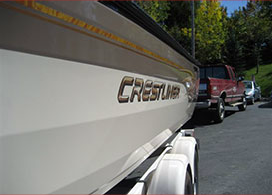 Anchor Marine Repair is Minnesota's #1 boat repair and refinishing company, specializing in full service boat repair, renovations, including Crestliner boat refurbishing.  The team at Anchor Marine Repair is passionate about boats and understands that you want to minimize the amount of time your boat spends in the shop and spend the most time possible on the water.  Whether you need boat repair after an accident or are looking to improve some of the features of your boat, Anchor Marine Repair can handle your project, big or small.
Crestliner Boat Repair and Renovations
Crestliner boats have on the market for more than 50 years and are a longtime favorite among boat owners.  They are built from aluminum and are built to last and out-perform other boats, from bow to stern. Over time, however, even a Crestliner can suffer normal wear and tear or get damaged in Minnesota storm.  Anchor Marine Repair can complete all necessary repairs and renovations for Crestliner boat owners in Minnesota.  Our team understands how much you love your boat and will take great care of your prized possession while it is in our possession and will get it back to you as soon as possible.
Our highly skilled and experienced boat mechanics have spent years working on Crestliners and other boats and understand the complexities behind every Crestliner part. You will feel confident partnering with a boat repair company that understands the mechanics of these boats and can correctly repair these aluminum boats.  Repairs can be done incorrectly if you take your boat to a repair facility without this experience and may even cost you more in the future.
One Stop Boat Repair Shop, MN
Our state of the art facility in Delano, MN can accommodate boats up to 38' in length.  We have two spray booths, meaning that we have the fastest turnaround time in the area.  We also offer pickup and delivery service for anyone, so you do not have to worry about transport in either direction.  We also always offer free estimates and free consultations and stand behind all of our work.
If you find yourself needing repairs or renovations on your Crestliner, do not trust your boat to just anyone. Partner with Anchor Marine Repair of Minnesota for all of your boat repair and refurbishment needs.  Call us today at (763) 972-3540 for more information or to schedule a time for one of our technicians to come pick up your boat!