MN Fiberglass, Aluminum Or Metal Flake Boat Repair
When you live in the Land of 10,000 Lakes it is natural to love spending time on the water. But here it is… the dreaded end of another boating season, and like it or not, winter is coming! For thousands of boaters, it's time to prepare your boat for the cold winter months ahead. If you haven;t done so already, now is the time to haul and winterize your aluminum fishing boat or your prized fiberglass speed boat and to get it into boat storage.
Boat Storage & Winterization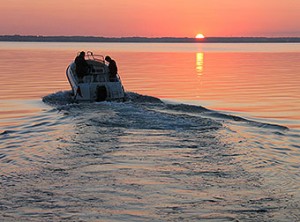 Winterizing your boat is quite possibly the single most important maintenance duty a boater will perform. It's true!  And to underestimate its importance is a BIG mistake. Many people listen to the winterize boat suggestions and let them go in one ear and out the other. Some boat owners do not want to go through the hassle of properly winterizing their boat and just let it slide, or they do not want to put any extra money into the boat before it sits in the shed for the next six months.
Unfortunately, those that do not realize the true importance of winterizing their boats could be in for a rude awakening when they try to use their boats the following spring. They could find a number of problems that could have easily been avoided by a proper winterizing.
Failure to winterize can cause your boat to suffer significant damage such as cracks that cause leaks, corrosion, frozen pipes, interior damage, and fuel degradation. Many boats are damaged or even destroyed every year because the systems aren't given the attention they deserve. By the time spring comes all these problems will cost you a fortune to repair, especially since most insurance policies do not cover damage done by lack of maintenance.
Your boat is a big investment, so it just makes sense to give it the TLC it deserves. Now might be the time to make those boat repairs so when the next boating season rolls around, you and your boat will be ready to get out on the water, have fun, and do the one thing your boat is supposed to do… Make you SMILE!!!