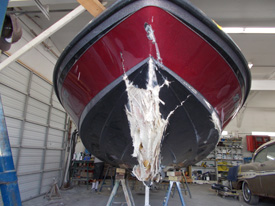 Summer is upon us and it is time to get your boat in tip top shape to make sure you do not miss out on any good boating days this summer. At Anchor Marine, we understand your boat is very important to you and we share the same passion. We love everything about boating from the activity itself to being on the water and therefore we are excited to share our passion with you and make sure that your boat is up and running for you to enjoy the summer days.
No matter what boat you own, you will need a repair at some point. They go through a lot of wear and tear from the water to the sun, and towing and storage and that is why repairs are necessary though the life of your boat. Boat's are a huge investment and that is why it is important to have someone maintain your boat that that is reputable.
Boats lose their value faster than any other large purchase you'll own. The reason is not because the boat is manufactured poorly, it is because boats are not properly cared for and because of the treatment they get throughout the years they do not have a high resale price. If you maintain your boat and keep it in good shape this investment can stay good for many years and you can get a good resale rate on your boat.
Whether your boat has been storm damaged, involved in an accident, or it needs some pick u up from years of use, Anchor Marine Repair can help. From structural repair to upholstery replacement, we have the skills and staff to complete every job. We have the tools to do small cosmetic repairs to replacements to complete restorations. Our state of the art facilities, along with our 45 years of boat repair, renovation and refurbishing experience assures that it will be done right.
With our passion for boating, and our years of experience we are here to provide the midwest with great boat repairs. We have clients that come to us from throughout the US. We are the number one boat repair shop in our area and we want each and everyone of you to be able to experience the great work we do and to continue to enjoy each summer day doing what you love most. From boat painting to new floors and transoms, we can get your boat hull looking like it just rolled off the showroom floor… and sometimes even better!
We have free estimates and consultations for all repairs and we are happy to help you! To restore your fiberglass boat to its former glory, call the  at Anchor Marine Repair today at 763-972-3540.