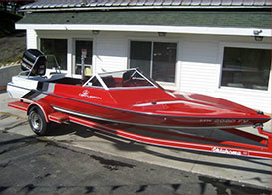 If you're looking for a full-service boat repair shop in the Minneapolis, MN area – Anchor Marine Repair is your best option in Minnesota! We do it all and we do it well. Our specialty is boats; indoor boat storage and winterization, collision boat repair, boat reupholstering, boat painting, fiberglass boat repair, aluminum boat repair, boat trailer repair… honestly we could go on for hours but that might get quite lengthy. So we will sum our boat repair shop up as: Full Service.
Professional Boat Results from Experienced Boat Mechanics
It's great to know of a place that is your boat's one-stop-shop, for everything under the sun and out of the winter cold but there is something even more important than that: Quality. The pride and joy of your on-water adventures needs to be well taken care of, not just by you but also by the shop you choose to handle all your structural and cosmetic need and desires. Anchor Marine Repair Shop is that dependable shop that you can trust to handle your boat repair and restoration, whether shes an Alumacraft, Chaparral, Crestliner, Glastron, Larson, Lund, MasterCraft, Ranger, Sea Ray or any other type of vessel.
 Our Marine Repair Shop Services:
Structural Boat Damage Repairs
Cosmetic Boat Damage Repairs
Leaking Rivet Repairs
Aluminum Boat Repairs
Boat Painting Services
Transom Repairs
Metal Flake Repair
Boat Winterization Services and Storage
Storm Damage Repairs
Quality Boat Repairs MN
With our years of experience and hardworking team there is rarely a boat we can't fix, even if you think it is unsalvageable. We can perfect your boat from Bow to Stern. We are open all year round and make boating repairs and restoration as convenient as possible, we offer boat pick-up and delivery. Yep, it doesn't get easier than that! We are willing to travel of the Minneapolis and St. Paul, MN area.
Contact Anchor Marine today and have your boat in tip-top shape for the next Minnesota boating season, it'll come faster than you think, be ready! Our number is (763)972-3540!