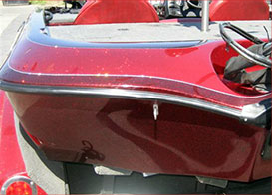 If you have ever owned an automobile that was as much about the outward appearance as it was about the practicality of transportation, you likely have a similar belief in place about your boat's finish. Sure, boats can provide practical transportation, but for most boat owners, their enjoyment comes from the ability to be out on the water. For some, the motivation is to move slowly to their favorite fishing location. For others, the motivation is to find a body of water where they can press the accelerator and get their boat moving at speed, maybe with a water skier or two behind it. The motivations may be different, but they are all united by a desire to have the finish of their boats look as good as when they were brand new, and that is where Anchor Marine Repair can help.
One Stop Shop For Boat Repair In Minnesota
Not only is Anchor Marine Repair known for our excellent work with boat finishes, but we have also more than ten thousand square feet of space and two large spray booths to do the work. The wealth of space at our facility allows for multiple jobs to be done at once, while still being able to concentrate on your job. You might not have bought your boat for its finish alone, but if it was even a small part of your decision to make the purchase, the chances are good that you want to maintain its appearance. We operate at the expert level of finish repair and matching. We are confident that no other similar service can surpass our level of quality in finish repair and color or pattern matching.
Protect Your Boat From Damage
Boats are under pretty much constant assault from weather and climatic changes. The extremes of temperature in this part of the country challenge even the hardiest of boat finishes. The time you spend in your boat on the water also contributes to the degradation of the finish. And all of that is about the normal and expected ways that boat finishes are assaulted. There are also the unexpected things that result in finish problems. It is common for boats to strike debris in the water. It is also not unheard of that the driver may misjudge the distance from a pier. Impact with objects will damage the finish.
Fortunately, you have access to the best finishing repair service in the entire Minnesota area. If you need help repairing your boat's finish, call us at 763-972-3540.