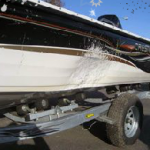 The pride in owning a boat is second only to the feeling of commanding your own vessel. When the structural integrity has been compromised or your beauty starts showing her wear, this can be a devastating problem. The boat repair experts at Anchor Marine Repair understand these unpleasant situations and are here to help! The experienced boat repair team at Minneapolis and St. Paul Boat Repair Shop work with passion and care to repair your boat to a condition that will be even better than its pre-accident! If you live in the Minneapolis or St. Paul area, take advantage of our one stop repair shop! Our expert technicians have decades of experience repairing, renovating, and refurbishing boats of all kind.
Quality and Convenience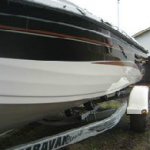 The experienced boat repair team at Anchor Marine Repair shares your passion for boats, and they understand how important your boat's maintenance is. We are committed to using only the highest quality repair products. As such, we are devoted to applying the most current technologies and techniques needed for your boat repair. If you've encountered trouble with your boat, the St. Paul and Minnesota boat repair experts offer free estimates and consultations to assess your needs. Once the repair work has been established, you can rest well knowing your watercraft will be back in tip top shape and out on that water in a hurry. We offer prompt service that is unmatched by any of our competitors!
We want you back out on that water ASAP. But, in order to do so, you must first get your boat to our warehouse, right? We are happy to provide boat pick up and drop off for our customers anywhere of the Minneapolis/St. Paul area. Whether your boat is at your home or a dock, let us handle its transportation! And, while it's in our care, you are guaranteed our experience boat repair team will take good care of it. For your convenience, we work directly with your insurance company to iron out the details of your coverage.
When your boat has encountered a problem and is in need of repair, call the experienced boat repair team at Anchor Marine Repair. You will be impressed by the passion and commitment of our St. Paul and Minneapolis boat repair experts. Call us at (763)972-3540 to schedule your appointment today!