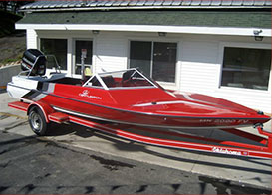 With summer just around the corner in Minnetonka, if you're a boat owner, you're likely chomping at the bit to get out on the water. While warmer weather is important, it's also equally important to ensure that your boat is in tip-top shape before boating season is here! If you've been busy this winter and spring and have put off properly maintaining your boat, feel free to reach out to Anchor Marine Repair today. We're a full service boat repair facility serving boat owners in the Minnetonka, MN and surrounding areas.
Experienced Boat Repair Mechanics At Your Service
At Anchor Marine Repair, we have a team of experience boat repair mechanics that each have several decades of experience helping Minnesota boat owners keep their boats out on the open waters. Whether you need aluminum boat repair, fiberglass repair, metal flake repair, or boat repair for collision or storm damaged boats, we're up to the task. Few boat repair shops in the area can compare to our significant experience paired with our state-of-the-art facility.
10,000 Square Feet of Boat Repair Space
Do you have a large boat that needs service? If so, you'll be delighted to hear that Anchor Marine Repair has a combined 10,000 square feet of work space to accommodate even the largest of boats. Because of the large size of our facility, we're able to accommodate boats up to 38 feet in length, which covers the majority of boats in the Minnetonka area.
Boat Repair, Renovation and Refurbishing Experts
Our team at Anchor Marine Repair is deeply passionate about boat repair and refurbishing. Whether your boat has been damaged in a collision or due to severe weather, or you're just looking to refurbish your boat to its original glory, feel free to contact our team today. We'll work with you to get your boat back out on the open water as soon as possible. Now is actually the perfect time for all types of boat repair, because we can ensure your boat is ready the second that the waters are warm again.
Pickup & Delivery
If you're unsure of how you're going to get your boat to our facility, you'll be excited to know that we offer pickup and delivery. We offer free estimates on all of our boat repair services, so go ahead and give us a call today at (763) 972-3540 to setup an appointment.