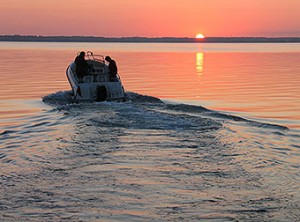 The summertime brings fun in the sun on the Minnesota waters. If you have a passion for boats, chances are that most of your weekends this time of year are spent out on the lake. Just like the sun can wear you down, the lake can sometimes cause damage to your boat. Boats are a large investment, so trying to fix any boat repairs on your own is not the brightest idea you've ever had. Instead, if you live in Minnetonka, MN, let the boat repair specialists at Anchor Marine Repair fix any damages you need addressed. Thanks to our experience and efficiency, we can have your boat back on the water in no time!
Diverse Boat Repairs
Our experienced team of boat repair technicians can handle just about any repair service that you need. We specialize in all sorts of boat brands and types including pontoons, yachts, speed boats, and jet ski's. Whether you need a windshield replacement, upholstery enhancement, paint job, fiberglass repair or even boat trailer repairs, Anchor Marine Repair has you covered.
Why Choose Anchor Marine for your Minnetonka boat repair needs?
Experience – Our staff has 45 years of combined boat repair experience. Additionally, each one of our boat repair technicians has been on staff for at least 10 years. This continuity allows us to work so well together.
High Expectations – As you place high expectations on any vendor that you work with for repair services, we place high expectations on ourselves. We make it a goal to repair your boat so that it is given back to you in better shape than it was in pre-accident.
Pick Up & Drop Off – For some people, the only reason they don't get their boat repaired is because they don't want to have to deal with the hassle of getting it to the repair shop. Anchor Marine Repair goes the extra mile to ensure that you get your boat back out on the water. We offer pick up and delivery service as long as your boat is.
Large Workspace – Thanks to our 10,000 square foot work facility, we are able to get your boat repairs done quickly.
Free Estimates – Our no obligation estimate allows you to get an understanding of what the repairs will cost you. Rest assured that our prices are extremely affordable.
Don't let the rest of summer pass before you get your boat repairs addressed. If you live in Minnetonka, MN, team up with Anchor Marine Repair today so that we can get your boat repaired and back out on the water in a jiffy. Give us a call today at (763) 972-3540 to set up a free estimate on your boat repair needs.