Boat Repair & Restoration MN
Minnesota, dubbed the "Land of 10,000 Lakes," has for decades been a recreational destination for boaters throughout the country. People love the lakes up here, as evidenced by the state having the highest per-capita boat ownership in the nation. With some of the most passionate boaters in the country, when summer finally comes, there's no time to waste!
But, each new season, we're rusty and we need to remind ourselves how we keep it safe to avoid problems out on the water. The number one reason for on water boat breakdowns this time of year is incomplete spring commissioning.
Spring Commissioning
What a lot of boaters may not know is that one of the most effective steps for safer boating is also the easiest. Make sure your charts are up to date! After all, the best electronics and the most complete set of paper charts can be downright dangerous if they¹re out of date. Shoals move, channels change and new structures are built. If your charts are out of date, they can give you a false sense of security and even navigate you directly into trouble. Some boaters think that doesn't happen very often, but the numbers tell a different story:
The U.S. Coast Guard reported $7.1 million in damages in 2011 from boating collisions with fixed, floating or submerged objects. In fact, that was a leading cause of accidents, second only to non-fuel fires or explosions.
In a recent survey by the Alliance for Safe Navigation, 25% of respondents had experienced a grounding within the last five years, with repair costs running as high as $10,000.
Chart Reading
Many recreational boaters in small boats don't consider it important to have charts onboard. Bad idea… even if you are just operating on your local lake. Perhaps you are not yet a navigator, but a chart onboard allows you to compare what you are seeing with what you should be seeing and can help you keep your bearings.
Nautical charts are different from maps in that they specifically depict water areas, while maps concentrate on land area, roads, landmarks, etc. Land areas and features on charts are sketchy and are noted only for their interest to the boater. Unlike maps, the nautical chart conveys much information specifically designed to assist in safely navigating the area that the chart covers.
Several of our visitors (that includes you Robert, with your brand new spiffy boat) have asked for information on reading nautical charts so we thought we would share some tips.
Important tips:
Study your chart thoroughly.
Look at the position from which you will start and visually follow along the course you wish to take.
Look for "notes" – water depths, obstructions (especially under water), bridges, power lines or any other unusual items that may be a hazard to your progress.
Make a note of each of these on a separate piece of paper.
Make note of all buoys and markers you may pass in the order they will appear. This will give you a documented picture of your route and what you should expect to see without having to continually try to find a small marker on the chart.
Look for visual objects featured on your chart that you should be able to observe and identify to confirm your position.
Check the weather forecast for where you intend to boat. Don't just check the regular weather channel – find the marine forecast to learn about the sea state at your destination. This report tells you about the weather, wind speeds, and wave height. The best place to look is the NOAA weather.gov site.
To help boaters update their paper and electronic charts, the Alliance for Safe Navigation provides a resource tool for boaters to use in their spring commissioning. It offers direction on how to update electronic and paper charts, and it also provides links to boat safety courses, a safety checklist and vessel exams. You can find the tool online at www.allianceforsafenavigation.org.
Carry Up-to-Date Charts This Spring
Any mariner knows that navigation demands precision. Waterways continually change, and precision involves knowledge of changes — both large and small. That's why NOAA and its partners discover and document more than 11,000 navigationally significant changes every year.
Before you go out on waters familiar or unfamiliar this spring, take a minute to review these resources and learn about changes in your local waters. You may be surprised how much has changed.
Are your electronic and paper charts current? Probably not! Too many boaters neglect making regular updates to navigational charts. Sooner or later paper charts become out-of-date. In general, it's a good idea to get new charts every two years or so.
Find updates for your electronic and paper charts.
Many boaters are simply not aware of changes that are taking place to the waterways that they navigate every day. The channel(s) that you successfully navigated last season may have a completely different bottom configuration this year because our waterways are ever-changing!  Every year, 13 million boaters face shifting shoals, changing channels, moving buoys, and newly discovered hazards. Even the facilities that may be available at marinas also change. These changes happen daily, and it's your responsibility to be aware of them to avoid a boating accident.
Boat Repairs & Renovations
Collision with a fixed object" is second most common type of recreational boating accident. Hitting an object under water that you didn't know was there can do some serious damage to your beloved boat!
Aluminum Collision
2012 18 Foot Alumacraft
This boat hit a steel object in water. Damage was cutout; new aluminum was welded in place. The body work was performed and a new coat of paint was applied. As you can see the boat was returned to its pre-accident condition.
BEFORE
AFTER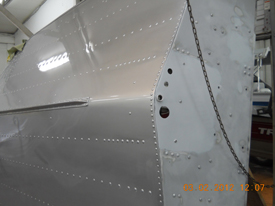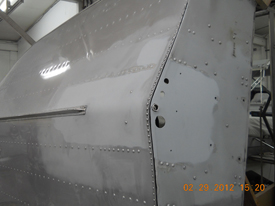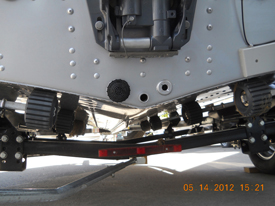 ---
Recommended Boating Safety Equipment
Chances are good you've heard of Murphy's Law – if something can go wrong, it will go wrong. The boating community has more to say on the matter: when it comes to boating, Murphy was an optimist. When things go wrong on a boat, they usually go wrong dramatically and quickly. Updating your charts can help ensure your safety on the water.
Current local charts. While charts are not legally required, if you get in a boating accident and call your insurance company, they will ask if you had charts on board. If you didn't, they will refuse to cover your boat repairs.
Even if it's not a requirement, most owners have invested significant time, energy and money into their boat. So, it makes sense that boat owners would want to protect their investment.
In spite of your best efforts, accidents do happen and when they do, you want the assurance that your boat will be restored to its original beauty. Repairs should be done by a professional Minnesota boat repair expert to ensure the boat is a seaworthy vessel.