Fiberglass, Aluminum & Metal Flake Boat Repair MN
After one last hurrah on the water, it's all coming to an end. Yes, another great boating season is winding down and taking your fun on the water with it. It's time once again to haul your boat out of the water and get it winterized before putting it in storage for the long winter months ahead. Now it might not be the most glamorous part of boat ownership, but your boat is an important investment and its care over the winter months is vital.
Minnesota DNR Urges Sharp Eye for Invasive Species During Fall "Cabin Close-up"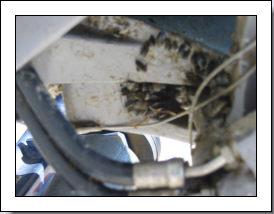 With winter just around the corner many Minnesotans are pulling in their boats and closing up cabins for the season. It's the time of year when the Department of Natural Resources (DNR) asks every cabin and lakeshore owner to watch for aquatic invasive species (AIS) when removing docks, boat lifts, swim rafts and other equipment from the water.
Every year, the introduction of harmful, non-native species into the U.S. has been increasing. Collectively, these nuisance species make tremendous impacts to different things valued by many Americans. Ultimately, the cost of invasive species (terrestrial and aquatic) in the United States amounts to more than $100 billion each year.
The end of the season offers an important opportunity to monitor for AIS.  The Minnesota DNR is reminding boaters and anglers to continue to take extra precautions when removing watercraft at the end of the boating season. There were numerous reports of boat engines overheating because cooling water inlets were clogged by zebra mussels. Zebra mussels also have the potential to attach themselves to the prop and all areas of the motor, thereby either affecting the performance of the engine and or actually jamming steering equipment.
Prevent Aquatic Invasive Species (AIS)
As a means to prevent the spread of zebra mussels, spiny waterfleas, faucet snails, or other prohibited invasive species, the Minnesota DNR is asking boaters to adopt preventative measures NOW to slow the spread and reduce any likelihood of damage to our environment or your boat. Clean, Drain and Dry your boats…  Carefully inspect everything you remove from the water to see if there are invasive species attached. Inside and Out!
Look on the posts, wheels and underwater support bars of docks and lifts, as well as any parts of boats, pontoons and rafts that may have been submerged in water for an extended period. In newly infested waters, adult zebra mussels may not be abundant and there may only be a few mussels on a piece of equipment. On a smooth surface, juvenile mussels feel gritty, like sandpaper. If a new infestation is suspected, the exact location should be noted, a photo taken and a specimen should be kept.
Protect Your Boat
There are also specific legal requirements that cabin owners and boaters must follow when removing and storing watercraft and equipment for the winter – or hiring someone to handle it:
Transporting and storing watercraft
When hauling boats or other watercraft to a storage facility away from the shoreline property, make sure there are no invasive species attached. It is illegal to transport watercraft with invasive species attached.
However, if the watercraft is contaminated with AIS and it needs to be transported to another location for cleaning and winter storage, the DNR provides an authorization form to transport watercraft //files.dnr.state.mn.us/natural_resources/invasives/ais-auth-form-boats.pdf. The form should be downloaded, completed, signed and kept in possession during transport. Zebra mussels and other invasive plants and animals must be removed before transporting the watercraft back to a lake or other waterbody.
Transporting and storing docks, lifts and equipment
It is legal to remove a dock, boat lift, dock, weed roller, swim raft, or irrigation equipment from infested waters and place it on the adjacent shoreline property – even if there are zebra mussels or other prohibited invasive species attached. A permit is not required to place equipment on the shoreline. Contact a DNR AIS specialist if an invasive plant or animal is found that has not been sighted on the lake before.
However, if someone wants to transport equipment from infested waters to another location for storage, cleaning or repair, they must have an authorization form to transport equipment to legally move it to another location.
If the equipment is to be installed in another waterbody, all aquatic plants and animals such as zebra mussels and Eurasian watermilfoil, must be removed – and the equipment must be dried for 21 days before placing in other waters.
Hiring a business or individual to remove boats and equipment from any waterbody
Any business or individual in Minnesota receiving payment to decontaminate, install, or remove boats, docks or water-related equipment is required by law to complete AIS training and obtain a permit before working in waters of the state.
Anyone hired to remove a boat or dock must have a current DNR permitted service provider sticker on their windshield. If they work for a lake service provider business, ask to see an employee certificate.
A list of permitted lake services providers is on the DNR website (webapps8.dnr.state.mn.us/aquatic_invasive_species_training/lake_service_provider_permits/public_website_list)
Anchor Marine Repair
It just so happens that Anchor Marine Repair is a permitted lake service provider in Minnesota, trained in aquatic invasive species and decontamination methods. It is one of many ways we are working to protect our water resources from human transport of invasive species. Our estimates and consultations are always FREE! AND we would be happy to pick up and deliver.
New technologies are being developed and researched, but until we have the technology to safety deal with these tiny terrors, a high quality anti-fouling paint can help the spread of AIS to new waters. Most marine algae, slime growths, and mussels – including zebra and quagga mussels – are sensitive to these chemicals and will not attach to them.
If your boat stays in the water at least part of the year, good anti-fouling paint is critical for keeping it performing its best, and for reducing fuel costs. Most boaters find bottom painting messy and tedious, but it's one of the key preventative maintenance jobs that keep your boat in shape. A clean hull is safe, fast and efficient, and a fouled bottom cuts your top speed, damages maneuverability and lowers your fuel economy.
Fiberglass and Aluminum Boat Repair & Refinishing
With a passion for boats and a love for repairing and refurbishing them, we specialize in fiberglass, aluminum or metal flake boat repair and finishing and matching your boats gelcoat finish. From boat painting to new floors and transoms we can get your boat hull looking like new again!