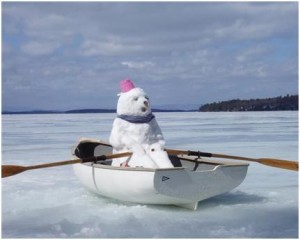 The fall months are full of boat owners working to moor up or bring their boats in for the season. Many will simply trailer their boat, cover it, and leave it until the weather begins to warm up again next season. The best thing to do however, is to thoroughly inspect your boat structurally to ensure that any damages are taken care of, as the off-season is the best time to get any repair work or restoration done.
First off, inspect your trailer thoroughly: Many boat owners just assume that their trailer is fine and free of defects. They pull their boat out of the water and plan to trailer their boat all winter long. What happens if one of the tires is dry-rotted and goes flat? Try jacking a trailer with a boat tied down on top. Not safe! Check hitch points, tires, joint welds, and for any other general defect. If you need trailer repair before pulling your boat out of the water, contact Anchor Marine Repair.
Hull, cabin, and fly bridge: Once the boat is pulled from the water, it is prudent to wash the hull well. This will remove any salt, contaminates, and algae growth. Next, detail the gelcoat finish to remove any stains or oxidation. Then, clean and polish metal components to reduce any corrosion or chances of rust. Scrub the deck, fish box, and bait wells very well. Lastly, clean all the vinyl and canvas surfaces (seats, Bimini top, etc.).
Don't overlook structural defects: Many owners pay much closer attention to mechanical issues with their boats, mainly because they're most obvious. To add to that, if structural damages are noticed, they are likely to be put off and gotten to another time. Don't fall victim to this mentality. Whenever structural damage is noticed, consult the professionals. In many cases, having the issues dealt with early can save you bundles of money later on, down the road!
Notice Any Boat defects Or Damage?
If you become aware of any damages to your boat or trailer's structure, need paint restoration, or are even just thinking about upgrading the interior components, look no further than the boat repair and restoration experts at Anchor Marine Repair in Delano, MN. With more than a decade of service, Anchor Marine is standing by to work on your boat! Contact (763) 972-3540 or email service@anchormarinerepair.com to discuss how we can be of help to you.