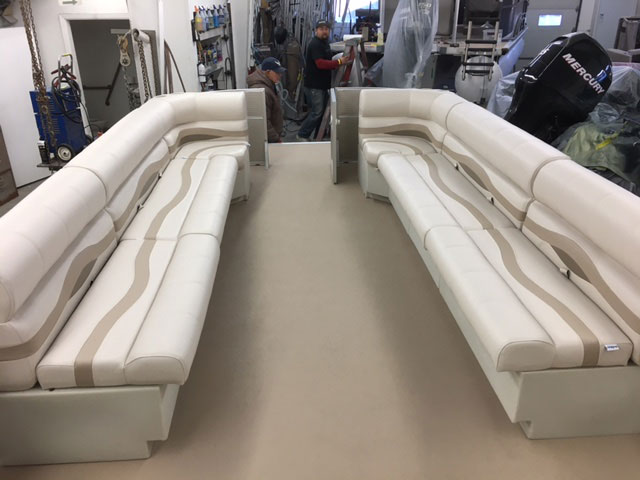 If there is one thing the boating world is excited about, it's cruising out on the MN water with a pontoon boat. Whether you are booze cruising or even fishing off of your pontoon boat, many boat owners are exploring the options for pontoon boat renovations. At Anchor Marine Repair, we are your one stop renovation shop for all of your pontoon renovation needs. No longer do you have to leave the shore without the immense amenities of your living room. From TVs to kitchens, pontoon boat renovations know no bounds.
Simple Updates
While bells and whistles are always a good time, pontoon boats are made to be simplistic cruisers out on the water. Anchor Marine Repair can provide simple cosmetic renovations as well as more complex moves. Whether you are looking to recover your lounger, upgrade your captain's seat or redo the flooring, our team of professionals can provide you with simple, cost effective changes that tremendously increase the quality of your ride.
Added Additions
The fun part about a pontoon boat renovation is largely due to the vast amount of space pontoon boats have to transform. Need your entire seating arrangement changed around? Want to add a permanent cooler to your pontoon boat? How about a table? Wouldn't it be nice to have a canopy? Tell us your ideas and we will quickly get to work making your pontoon boat renovation a fun and fruitful experience.
Quality Renovations
At Anchor Marine Repair, we have over 45 combined years of experience in repairing, renovating and refurbishing pontoons. We enjoy taking an old pontoon boat and turning it into the flashiest or most comfortable thing out on the water. Everything we do, we do with knowledge and skill. We stay current on all techniques and technologies in today's renovation world so that we can provide you with the highest quality, most innovative renovations possible. We offer free estimates and consultations to all of our customers and will come pick up and deliver from your home or dock.
If you are looking for a quality company that provides pontoon boat renovations in Minnesota, you have found your home with us. For more information about our pontoon renovation services, give Anchor Marine Repair a call today at 763-972-3540 or send us an email at service@anchormarinerepair.com.