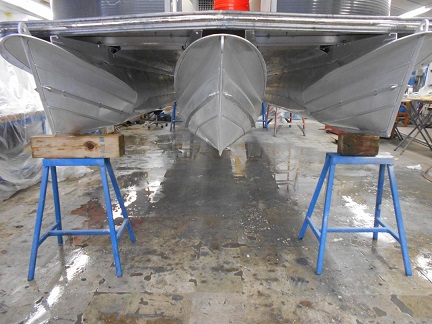 Pontoon boat owners have many things in common – including a love for the water and for enjoying the outdoors. Pontoon boats are reasonably priced and a great way to relax and soak in the beauty of the area, with many comforts of home, including couches, lounges and even swivel chairs. Pontoon boats are roomy enough for you to host family and friends to join you on your journey, but also perfect for a private boat ride. When your pontoon boat needs repair, look no further than Anchor Marine Repair. Our crew can complete high quality pontoon boat repair after an accident so that you can get back to enjoying the water as soon as possible.
Pontoon Boat Repair & Restoration
The point of a pontoon boat is to be able to relax and enjoy plenty of space while cruising on the Minnesota waters. Pontoon boats are built to last a long time, but there will be times where restorative services may be needed. Is the carpet on your pontoon boat worn down? Do your pontoon seats need to be recovered? Whatever the case may be, our boat repair specialists have a passion for restoring boats that have been a part of your family for some time. Let our staff know the restoration enhancements that you are interested in, and we'll handle the work at an affordable price. By choosing our team of boat restoration experts, we'll aim to restore and revitalize your pontoon boat back to a better than new condition.
Pontoon Collision Repair Services
Has your pontoon boat recently been involved in a collision? If so, you want the best and most experienced team in MN to handle your pontoon collision repair needs. The boat insurance companies around the area respect our work because they know that we'll get the collision repairs completed effectively. To help our clients, we'll help you with the insurance claim filing process and will make sure that all the collision damage is identified and addressed with the insurance adjuster. Count on our team of collision repair professionals with more than 45 years of combined experience to handle your repairs the first time around. In turn, your pontoon boat will be ready to get back on the water in no time.
If your pontoon boat is in need of a repair, rebuild, or restoration to improve its appearance, call Anchor Marine Repair. We have over 45 years of combined experience providing repair, renovation and refurbishing of all types, sizes, and styles of boats, including pontoons. Call us at (763) 972-3540.