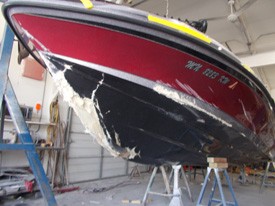 When we think of ranger boats, we think of a lot of fish caught, a lot of memories made, and also a lot of repairs. Someone once said that if your ranger boat has never had any work done to it, you've either not had it long enough or you just aren't doing something right. Ranger boats are phenomenal boats that can endure a lot. They are built to be a bass fisherman's dream and rigged for large horsepower. It's a strong, high performing boat that will eventually get dinged up. At Anchor Marine Repair, when your ranger boat in MN is in need of repair, we will take care of it with the utmost quality and compassion.
Qualified Repair Professionals
When you entrust someone with something like your ranger boat, it's important to know that it's in good hands. Anchor Marine Repair happens to be the number one Minneapolis boat repair company around. We offer over 45 years of combined experience in boat repair and all of our technicians have been with us and performing quality ranger boat repairs for at least 10 years. Our team is proud to repair ranger boats and always aim to get your boat looking like new again.
State-of-the-art Facility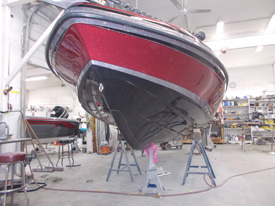 If you are worried about getting your ranger boat back out on the water, we've got you covered there too. Our long and trusting relationship with all of our ranger vendors means that we can get the parts we need for replacement fast! Our facility has 10,000 square feet of work space and can accommodate any size ranger that needs repairs. Additionally, we offer pickup and delivery to any home or dock. Our facility runs smoothly so that your boat can be back in your control as quickly as possible.
Specific Ranger Repairs
While we can repair anything and everything on your ranger boat, we do have specialized areas that specifically address ranger boat needs. These items include:
Structure Boat Damage
Flooring Refinishing (no matter what type of flooring)
Transom Replacement
Top Replacement
Upholstery Replacement
Leaking Rivet Repairs
Boat Trailer Repairs
No matter what type of repair you need to get done on your ranger boat, Anchor Marine Repair can handle the job. We will get your boat back to you as good or even better than it was before you came in. For more information or to get a free estimate on your ranger boat repair in Minnesota, give Anchor Marine Repair a call today at 763-972-3540 or send us an email at service@anchormarinerepair.com.