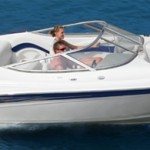 As this year's boating season comes to a close, it is time to think about what kind of repairs and renovations your boat might need to be in the best shape possible come next spring. Anchor Marine Repair can partner with you during the off-season to make this happen.  As the #1 boat repair resource in the Minneapolis, MN area, our experienced repair team can complete fiberglass repair, metal flake repair, and aluminum boat repair for collision, structural, and storm damaged boats.  We repair and refurbish all types of boats including the Sea Ray brand, the world's largest boat manufacturer of superior quality pleasure boats, Sport Boats, Sport Cruisers, Sport Yachts, and Yachts.  Whether your boat just needs some minor repairs or a major overhaul, Anchor Marine Repair in Minneapolis, MN can help.
Anchor Marine Repair – Our Facility
With two state of the art buildings and over 10,000 square feet of working space, Anchor Marine Repair has become the trusted leader in the area devoted to boat repair and boat refurbishing.  Our two spray booths (42' and 48') accommodate boats up to 38' in length, and will provide you with the fastest turnaround time in the business so that you can get your boat back on the water as soon as possible. We also offer pickup and delivery options so that you do not have to worry about the hassle of transport.  We can even work directly with your insurance company to file necessary claims.  The bottom line is that our team works to make the process simple and easy for you!  Anchor Marine Repair is your one stop shop for all of your needs.
Sea Ray Boat Repair and Refurbishing
If you are the owner of a Sea Ray boat of any kind, it is no doubt one of your most prized possessions. Anchor Marine Repair will help you keep your Sea Ray in the best possible shape and ready to go on the water when the weather cooperates. Our skilled technicians specialize in the following Sea Ray boat repairs and renovation projects:
Structural boat damage
Wood floor refinishing
Transom replacement
Top replacement
New upholstery
Leaking rivet repair
Boat trailer repair
Anchor Marine Repair stands behind their work and focuses on providing the best possible customer service, communication and pricing to each of our customers.  We have been serving boat owners in the Minnesota area for more than a decade, and each of our technicians is passionate about boats. We will bring that passion to your job, and your boat will come back in better shape than when it left!  Call (763) 972-3540 for more information.