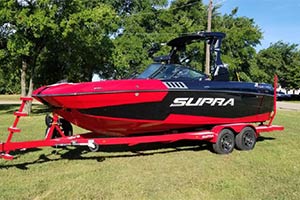 Supra boats have been on the market for over 30 years now. In 1981, the first Supra family ski boat was created. Since then, Supra has been redefining the way luxury towboats and advanced wake a surf boats are made. From lounging on the lake to a full competitive day out on the water, the Supra boat is built for fun. At Anchor Marine Repair, we are proud to offer Supra boat repairs to customers. If you own a Supra boat that has been damaged or is in need of repair or refurbishment, Anchor Marine Repair is your one and only repair shop choice.
Repairing Structural Damage On A Supra Boat
Wakeboarding boats are hitting the markets and increasing in popularity every year. The idea that a boat can create a wave for surfing and wakeboarding is appealing to any water sports enthusiast. Every Supra wakeboard boat comes with a new type of technology that is similar to a stern drive with propellers in the front. Supra makes models dedicated to doing wakeboarding, wake surfing, skiing, and boats that can even do all three. Should any part of this boat be structurally injured, you are going to have major problems in the long run. Whether your repair is needed under the surface of the water or even on the tower where your tow line is placed, when you need a repair, Anchor Marine Repair has all of the right tools and experience to get the job done right.
Experienced Supra Repair Services
At Anchor Marine Repair, we have quality technicians that have experience with Supra boats. We have all of the right state-of-the-art equipment, technology and facilities to get the job done right. Our knowledge knows no bounds and our team specializes in every aspect of boating repairs. From repairing your Supra trailer to polishing your wood floors, we've got you covered. We do repairs, restorations, and fun customizations for Supra boats of all shapes and sizes. Our team will work with your insurance company and we even offer pick-up and delivery.
As always, our consultations and estimates are always free at Anchor Marine Repair. If you are in need of a repair for your Supra boat, don't wait another minute. For more information about our Supra boat repairs, give us a call today. Call us at 763-972-3540 or send us an email at service@anchormarinerepair.com.