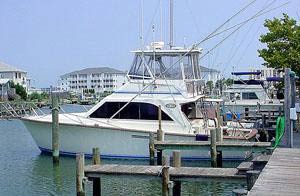 Torrential rain, lightning, gale-force winds or tornados, hail, and flood damage can wreak havoc on watercraft of all types. Whether your boat is dry docked, docked at a marina, or tied to a mooring, damage can occur anywhere and can be severe. Each year millions of dollars' worth of claims are filed each year with boat insurance companies in an attempt to recover funds for storm-damaged watercraft. Here at Anchor Marine, we're offering some pro tips to give your boat the best chance of avoiding storm damage this season:
Before the storm season sets in (tornadoes are most threatening between May and August), it is good to develop a plan of action to keep your boat stored in a place where it is least likely to sustain storm damages. It may seem like common sense, but many boat owners become complacent and simply leave their boat and trust that, if the boat doesn't float away, it will be there waiting on the next outing with no issues. The complication is that Minnesota's storm season is during the peak of the summer… when boat owners want to use their boats the most. Therefore, planning for a quick removal and secure storage site will serve you well.
Ensure All Records And Policies Are Up To Date
While there are no Minnesota laws requiring boat insurance coverage, in the land of 10,000 lakes, some marinas require insurance coverage to use their docks or moorings. If you do have insurance coverage, it's a good idea to make sure the policy is current, paid up, and that you have all necessary insurance paperwork. You will also need access to your vessel registration documents, an inventory of any equipment you keep on board, and any lease agreements if you're still making payments on the vessel. Ensure all this documentation is easily accessible to you in the event of a major storm (i.e., don't keep your only copies on the boat itself).
Close Up And Seal Vessel Windows
If you know that a storm is approaching, just like we tape up windows on storefronts or our homes, ensure that your boat portals are closed and that any windows or openings are sealed up with tape. This will help with containing glass in the event of breakage due to storm damage or freezing temperatures.
Unfortunately, no matter how much you plan and how many steps you take to protect your boat from the wrath of storms, damage can still occur. When it does, the restoration experts at Anchor Marine Repair are standing by to get your boat seaworthy as soon as possible. We offer pick up and drop off services, we'll work with your insurance company, and we have the professionals on hand to get the work done efficiently and rapidly. Call us at (763) 972-3540 to have your boat and/or trailer repaired from Minnesota storm damages.