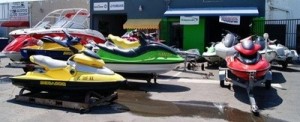 Boats aren't the only toys on the water that need regular maintenance and repairs. Most boat owners have a repair specialist in mind any time that something goes wrong, but what about wave runner owners? If you own a wave runner and have yet to find a reliable, affordable and timely wave runner repair specialist around Minneapolis, MN, look no further than our professionals at Anchor Marine Repair. Specializing in jetski repairs, we'll have your pride and joy back to full health in no time!
Trusted Repair Staff
By putting your trust in Anchor Marine Repair, you'll be able to rest easy knowing that your wave runner's repairs will be handled correctly the first time around. With more than 45 years of combined boat repair experience, our professionals have built up the reputation of being Minneapolis' number one boat repair shop. The minute your wave runner hits our lot, it will remain protected during its entire visit, thanks to our 10,000 square foot workspace. To top it off, our repair staff makes it easy for our clients to get their wave runner repaired. As long as you are of the Minneapolis area, we offer pick-up and delivery options from your residence or dock. Our goal is to make it so that you truly have no excuse as to why you haven't gotten your wave runner repaired.
Diverse Repairs
Another plus to choosing Anchor Marine Repair as your wave runner repair shop is that we work on all of the popular wave runner brands. Most commonly, we work on Kawasaki, Seadoo, Yamaha, Polaris and Honda wave runners. If you're interested in having some body damage paired, need a new pant job or complete restoration services, our dedicated team has you covered every step of the way. If your insurance company is involved with your repairs, that's not a problem. We are happy to work with your insurance company to ensure that your accident claim is handled appropriately, with your best interests in mind.
It is important to leave your wave runner repairs in the hands of a proven, trusted and affordable repair team. If you are looking to get your wave runner repaired to better than pre-accident condition, then you need to choose Anchor Marine Repair for all of your repair needs. Serving Minneapolis, MN, give us a call today at (763) 972-3540 or email service@anchormarinerepair.com to set up an appointment for your wave runner repairs.