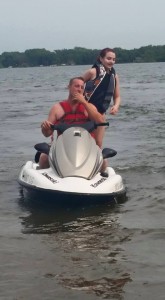 Anchor Marine Repair has seen the best and worst case scenarios of boating and Jet Ski accidents, from small dents to full body and engine replacements. No matter the damage, though, our marine repair team always comes through, returning the boats and Jet Skis we see to their pre-accident state. As a trusted marine repair company in the Minneapolis and St. Paul, Minnesota area with more than 45 years of experience among our technicians, Anchor Marine Repair has become a well-known and trusted Minnesota marine repair company. We're recognized as a reputable and insurance approved repair shop by all of the major Jet Ski brands, including Kawasaki, Seadoo, Polaris, Honda, and Yamaha, the makers of the Waverunner.
Trusted Jet Ski Repair Company
With a reputation that precedes us, our team of technicians works tirelessly to return Waverunners and every make and model of Jet Ski to its pre-accident condition, if not better! We aim to please, and making you Jet Ski look and run like new is the only way we know how that do that. With our insurance-approved Waverunner repair services, we've made certain that you can't go wrong. Conveniently based in the Twin Cities area, we're able to offer pick-up and drop-off services anywhere, servicing hundreds of towns and cities in Minnesota. With us, you can count on reliable service, excellent repairs, affordable pricing and even free consultations and estimate to help you ensure you're choosing the right Waverunner repair company for you.
Skip the Risks of DIY Jet Ski Repairs
Although it can be tempting to try to look up some DIY repair guides to repair your accident-damaged Waverunner, if you ever want your Jet Ski to look or run the way it used to, your best bet is to call on a professional Jet Ski repair company that knows how to deal with Waverunner repairs. When you take on Waverunner repairs yourself, depending on the complexity of the issue you're trying to fix, you may end up wasting your time and money and changing nothing, or, even more likely, you'll cause more damage to your Waverunner. Instead of taking the DIY Waverunner repair route, call Anchor Marine Repair, and let us put our experience with Jet Skis, and Waverunners in particular, to work.
Minnesota Waverunner Repair Professionals
When you call on Anchor Marine Repair to make Waverunner repairs, you can count on our highly experienced team giving you only the best service and repairs. We'll work with you and your insurance to help you get an affordable price for your repairs, and you can rest assured knowing you'll only be receiving the highest quality Jet Ski repairs. No matter where you are in Minnesota, Anchor Marine Repair has all of your repair needs covered. Call us today at 763-972-3540, or email service@anchormarinerepair.com to find out how you can get the professional Waverunner repairs you deserve.