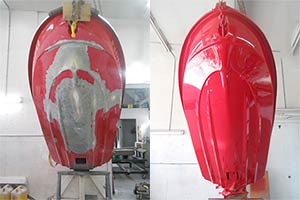 In Minnesota, we are known for our large, beautiful lakes. Among those lakes, you can often find a slew of jet skiers happily roaming these gorgeous waters. Jet skis are so much fun. They bring about lots of excitement out on the water. Whether you are taking a joy ride or looking for something a bit more thrilling, a jet ski can check all of those boxes. While jet skis are known for their speed, agility and quick maneuvering, they are also known for taking big hits out on the water. Whether your jet ski has recently been involved in an accident or it has generalized damage from riding so much out on the lakes, Anchor Marine Repair is here to help.
Jet Ski Dody Damage
When the body of your jet ski is compromised, it's crucial to get it repaired quickly. Afterall, jet skis are complicated, tight spaced machines that hold unique facets and components that other boats do not. So, if the body of your jet ski is damaged, it's imperative that a knowledgeable and skilled technician take a look and perform the repairs properly. Even the smallest error in a jet ski's build can make your jet ski aerodynamically unstable, which can result in an even more expensive repair down the road.
Major Brand Jet Ski Collision Repairs
At Anchor Marine Repair, we have over 45 years of combined repair, renovation and refurbishing experience. Almost every make and model of Jet Skis have come through our doors at one point. Our most popular Jet Ski brands that we work on regularly include Kawasaki, Seadoo, Yamaha, Polaris Honda. Our expert technicians are well versed in these brands and know exactly how to tackle any problem that your jet ski may have. Not only are we able to restore your jet ski in a timely manner, we also work directly with most insurance companies, fighting to get you the most out of your money.
Anchor Marine Repair offers convenient pickup and drop off services to our customers. We also provide free estimates for any and all of your jet ski repair needs. Our state-of-the-art space, along with our quality technicians, allow for even the most complicated jobs to be restored quickly and efficiently. For more information about our jet ski repair company in Minnesota, give us a call today. Contact Anchor Marine Repair by calling (763) 972-3540 or feel free to send us an email at service@anchormarinerepair.com.