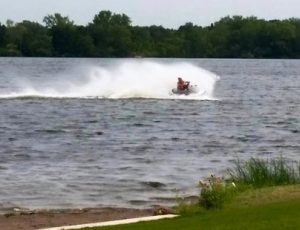 Jet skis are an absolute blast…until they are not. The lakes of Minnesota are filled with jet skis at certain times of year because they provide so much fun and entertainment for people of all ages. They also tend to be pretty durable and resilient, but there are occasions when they need repairs. The fact that they do their work on water reduces much of the impact that other motorized vehicles experience, but the hull of your jet ski can still take a beating on the water. The joy of getting out on the water for the first time on a new warm-weather period, can cause jet ski riders to go at it with more exuberance than usual. It is not the jumping that causes damage, but the landing. At Anchor Marine Repair, we are happy to address any body damage issues your jet ski might have developed.
Jet Ski Repair Shop
Even if you are not the type of jet ski rider to catch air, the sheer number of jet skis on the many lakes in Minnesota can result in collisions. Minor collisions may not prove to be catastrophic to your jet ski, but you can do enough damage to require repairs. Whatever issue your jet ski has developed, it is almost a certainty that our team will be able to repair it. Furthermore, if you are filing an insurance claim, we will be happy to work with you to ensure that all associated insurance processes are handled thoroughly and precisely to minimize the time you are without your machine.
Watercraft are every bit as susceptible to minor and major accidents as cars and trucks. If you are lucky you will only have to have scheduled maintenance done on yours. We have the knowledge and experience to repair your jet ski correctly. Additionally, we are unique in that we offer a convenience that virtually no other repair service does: We have a pick-up and drop-off service to maximize your convenience.
Help Filing Insurance Claim for Jet Ski Repair
We have worked hard to set ourselves apart from our competition, and we know that the single best customer-service initiative we can offer is honesty when dealing with our valued customers. That is why we keep ourselves current on matters of repair technique and jet ski technology. Our staff is experienced and knowledgeable and we provide you with detailed descriptions of the issues we diagnose with your machine. It is also why we pledge to help you with your insurance claim. We have long experience with insurance companies and the processes they use to settle claims.
If your jet ski is in need of repair, we hope you will seek out Anchor Marine Repair to get it back in working order. Give us a call at 763-972-3540 or email us at service@anchormarinerepair.com and we will be happy to help you.