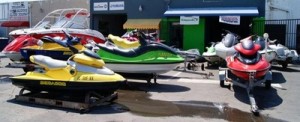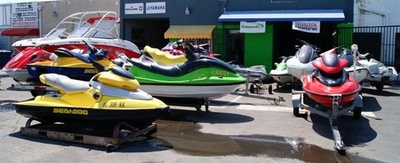 Get those watercrafts out of storage and back into the water! The peak season to get out on the lakes of Minnesota has arrived, and what better way to enjoy your summer than being on your jet ski! Wait a minute; does your jet ski need to be repaired before it can be taken out on the water? If you are in this predicament, and are looking for a jet ski repair company in the Minneapolis, MN area, Anchor Marine Repair is just the company for you! Thanks to our dedicated staff and large repair shop, your jet ski will be ready to get back in the water in no time!
History Behind The Jet Ski
Clayton Jacobsen II developed the first jet ski with a purpose of skiing over the water without having to be on a boat. Quickly, Kawasaki became the first company to mass produce these water sport vehicles. These vehicles have come a long way as they originally were stand up only watercrafts. Now, jet skis can withstand multiple passengers at a time sitting down. Hitting its peak in the 1990's, jet skis are still very popular today. These watercrafts are not immune to injuries and repairs. No worries, Anchor Marine has you covered for any jet ski accident repair service needed.
What's Behind Anchor Marine?
We do not get our reputation as the #1 repair shop in Minneapolis for no reason. With a staff that has over 45 years of combined experience, we make it a point to repair your jet ski to a better state than it was in before the accident even occurred. Each individual on our staff has been with our team for at least 10 years, which is simply unheard of in this industry. We strive to make it as easy as possible to get your jet ski over to us for repairs. That is why we offer pick up and delivery services for your jet ski as long as you are of the Minneapolis/St. Paul area.
Work With Major Insurance Companies
No need to worry, we are an insurance company approved repair company. One of our team members will be happy to assist you with the insurance claim process. With your best interests in mind, we will work with your insurance provider directly to make sure that all repairs are addressed on your jet ski.
Get your injured jet ski out of storage and into the hands of Anchor Marine Repair. Give us a call today at (763) 972-3540 to learn more about our jet ski repair services.