Top Quality Boat Repairs And Renovations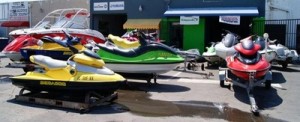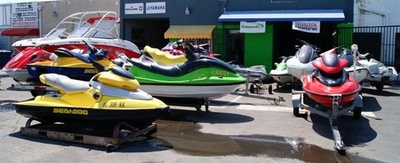 Jet Skis are equipped for fast fun on the water. They fly across the surface giving you a personal and up close look at every dancing wave. While personal watercraft is designed to be safe the risk of an accident is a possibility. After making sure that everyone is safe and reporting the accident to the appropriate authorities the next step is to contact an Insurance Approved Jetski Accident Repair Shop. Anchor Marine Repair has a team of certified technicians with years of experience in restoring your jet ski to as good as it was or Better.
Insurance Approved Jet Ski and Boat Repairs
There are several different makes and models of jetskis on the water. Each have unique properties that set them apart. Only experienced repair technicians are trusted by Marine Insurance Companies to handle jet ski accident repairs. At Anchor Marine Repair we have earned to trust and respect of insurance companies and jetski owners alike. This is why we are and Insurance Approved Jet Ski and Boat repair company.
Jetski Manufacturers Serviced by Anchor Marine Repair
Anchor Marine Repair is equipped to skillfully repair and restore all types of jetskis and personal watercraft.
Yamaha Jet Skis
Seadoo Jet Skis
Polaris Jet Skis
Kawasaki Jet Skis
Honda Jet Ski
Equipped for All Types of Jet Ski Accident Repairs
The extent of the damage to a jetski is no worry for experienced repair technicians at Anchor Marine Repair. We can repair anything from a minor scratch to paint damage to major structural damage. All repairs will be completed to the Satisfaction of our client and the highest level of Quality.
Choose the experts at Anchor Marine Repair for affordable and timely jet ski repairs. We are happy to provide you with a Free Estimate and work directly with your insurance company if you desire. You will see why we are Insurance Approved for Jetski Accident Repair.
Get Back on the Water as Quickly as Possible
Expert repair technicians at Anchor Marine Repair are knowledgeable, skilled and equipped to bring a damaged jet ski back to life again. If you have had a serious or minor accident with a jetski don't hesitate to call the experts. Anchor Marine Repair is a well respected Insurance Approved, Jetski Accident Repair Company servicing all makes and models of personal watercraft.
Contact Anchor Marine Repair today for a Free Estimate and Expert Consultation on Jet Ski Accident Repair at 763-972-3540