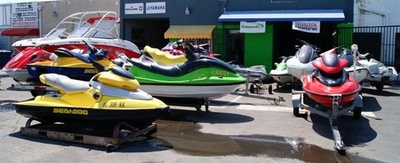 It is the prime time season to have your Kawasaki jet ski out on the Minnesota waters! Lots of people invest in a jet ski because they offer the speed and exhilaration of a boat at a fraction of the cost. Just like a boat however, there will be times that your Kawasaki jet ski needs repairs. Rather than waiting until the damage happens to find a reliable jet ski repair shop, get to know the best team in Minnesota, Anchor Marine Repair today! Our dedicated staff with over 45 years of combined experience specializes in Kawasaki jet ski repair services.
Restoring your Prized Jet Ski
There is nothing like getting out on the water and realizing your jet ski isn't functioning properly. It's discouraging but we can help by offering fast jet ski repairs and pick up/drop off services. Not only do we perform elite level service on your jet ski, but thanks to our convenient jet ski pick up and drop off service as long as you are within 250 miles from the St. Paul/Minneapolis area, our customer service cannot be matched. We make it a point to ensure that our customers have no excuse to get their jet ski repaired. What good is a jet ski that sits in your garage or driveway all summer? Thanks to our 10,000 square foot repair facility, we can get your jet ski in and out in no time! Additionally, we do not shy away from working with your insurance provider.
Diverse Boat Repair Services
No matter what type of damage you are dealing with, our team can tackle the repairs. From small scratches to dents or structural damage, your jet ski will be back to a better state than it was in pre-accident. Our staff can even fix upholstery or provide you with the resources to customize your Kawasaki jet ski. If you don't know what is going on with your jet ski, that is where our experienced staff comes into play. We offer free estimates to determine what repairs are needed on your jet ski.
Don't let distance be a reason that your jet ski has not been repaired. If you live within 250 miles of the St. Paul/Minneapolis area, count on our prompt jet ski pick up and repair services for Minnesota jet ski owners. Give us a call today at (763) 972-3540 to request an estimate on your jet ski damage. Our staff will make it a priority to get you and your Kawasaki jet ski back on the water in no time!