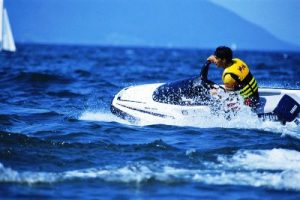 Did you go extra hard on your waverunner this summer causing you to have waverunner body damage? Well, now that the boating season is coming to an end, it is time to address your waverunner body damage once and for all. There's no better professional boat repair team than our crew at Anchor Marine Repair to handle all of your waverunner body damage repair needs.
Experience goes a long way in the waverunner body damage repair industry. Over the years, these waverunners have become increasingly more complex and more difficult to work on. Thanks to more than 45 years of combined boat repair experience, there's no type of body damage that our staff is scared of. Our goal is to return your waverunner back to you after repairs are completed in better than pre-accident condition. This way your waverunner will be strengthened and ready for the next season on the water.
WaveRunner Body Damage Repairs for all Brands
At Anchor Marine Repair we don't specialize in just one type of waverunner repair. Instead, we work on all types of waverunners including Kawasaki, Honda, Seadoo, Yamaha and Polaris. This makes the decision on who to trust for your waverunner body damage repair needs that much easier because you don't have to worry about whether or not Anchor Marine Repair can handle your repair needs.
Watercraft Body Damage Repairs Made Easy
Our repair team offers pick-up and delivery services for your waverunner body damage repair needs. This makes the repair process so much easier for our customers. Our customers really have no excuse for delaying their waverunner repairs thanks to this customer friendly service. Combine this with the free estimates that we have to offer when it comes to waverunner body damage repairs and the overall service that you receive from Anchor Marine Repair simply cannot be beat.
So, if you experienced some body damage on your waverunner that you haven't gotten repaired yet, now is the perfect time to get things moving. Choose to partner with our expert body damage repair staff at Anchor Marine Repair and let us be your one stop shop for all of your waverunner body damage repair needs. To request a free estimate on your body damage repair needs today, give us a call at (763) 972-3540 or email service@anchormarinerepair.com.