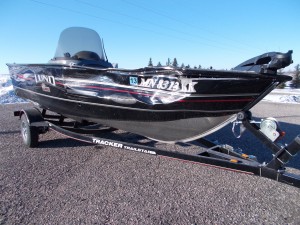 When you own an aluminum boat, you might think it's impervious to damage. True, aluminum boats are strong – especially compared to other boating materials – but they're by no means invincible. Even the strongest boats need maintenance, and even an aluminum boat can be damaged enough to need repairs. If you're looking for a Minnesota aluminum boat repair company that will give your boat the care it needs and deserves, ensuring your investment is protected, Anchor Marine Repair is the place for you. Our Delano, MN boat repair shop is equipped to deal with even the worst boating accidents and storm damage, and we'll make sure your boat is fixed up and on the water in no time.
Trusted Minnesota Boat Repairs
When we say we're trusted Minnesota boat repairers, we don't just mean locally; we mean throughout the entire state. We make it a priority to put our customers' needs first, and that's how we account for our long-lasting success! We go out of our way to make sure boaters get what they need, offering free consultations for repairs and even picking up and dropping off boats we repair!
Maintain Your Warranty with Quick Boat Repairs
One of the worst things you can do when your boat is damaged is let it sit without getting the repairs it needs. Many boats have warranties that cover specific damage, but these warranties can be voided if a boat is left without maintenance or repairs for a set amount of time. To make sure you protect your investment, don't let your warranty lapse; bring your boat in ASAP.
Aluminum Boat Accident Repairs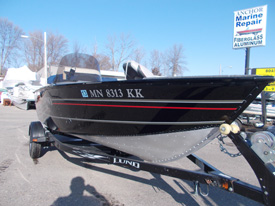 Boating accidents range from mild to severe to catastrophic, and we've seen them all. We know how important your boat is to you, regardless of how beat up it may be when it gets to us, and that's why we put as much care as possible into our boat repairs, ensuring that when you get it back, it's good as new.
Storm Damaged Aluminum Boat Repairs
Living in Minnesota, damaging winter storms are a fact of life for any boat owner. If you have a storm-damaged boat, even if it's not being used at the time, make sure to get it fixes as soon as possible, keeping your warranty in mind so that you get any repairs you need in a timely manner.
Prevent Long-Term Damage with Regular Boat Maintenance
One of the best ways to ensure your boat's warranty doesn't lapse and keep your boat in good working order is to keep it properly maintained throughout the year. By maintaining every area of your boat, you can keep it safe from long-term damage and help make sure every piece of your boat is as strong as possible so that it has a chance of withstanding accidents and storms.
For a Minnesota aluminum boat repair shop you can trust to put your boat at the top of our list of priorities, contact Anchor Marine Repair. Our Delano, Minnesota boat repair experts can be reached at 763-972-3540 or service@anchormarinerepair.com, and we'll be happy to answer any questions and get you on your way with a free service estimate.