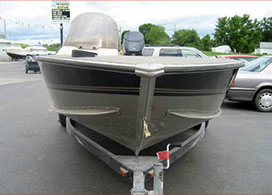 Anchor Marine is a repair shop with an extensive amount of experience in the boat repair industry. If you have an Aluminum Boat that needs repairs, whether it be a Transom Repair, Propeller Repair, Metal Flake Repair or any other type of damage, our marine repair mechanics specialize in Aluminum Boat Repairs. And if convenience is a factor, we offer free boat pick-up and drop-off services throughout the entire metro area and beyond. Repairing your boat has never been this easy before, we invite you to enjoy it too.
Aluminum Boats
Aluminum boats are quite popular due to their high strength and affordability. You will find that many popular boat brands market aluminum boats, such as Lund, Crestliner, Alumacraft and Ranger. Though Aluminum Boats have the strength to endure waters, damages will happen in time. And when that fateful day finally comes, it's nice to have a marine repair shop on your side that knows how to repair your aluminum boat and get you back on the waters.
Common Aluminum Boat Repairs:
Transom Replacement
Replacing a Transom in an Aluminum Boat takes a level of skill, especially if you would like the new transom to look and function like the original. Our marine repair experts can replace your old or rotted out transom with a properly installed new transom that will see miles of water to come. If you suspect your transom is becoming weak or rotting contact our Transom Replacement Specialists and we can provide convenient and timely repairs.
Propeller Mount Repairs
If you need to repair your Aluminum boat's propeller mount or replace a propeller on your aluminum boat, Anchor Marine is the perfect resource for your local aluminum boat repair needs. Small dings or nicks on the propeller can off balance the weight distribution and start to affect the mount of the propeller. Be sure to inspect your boat prior to taking it out, if you notice the mounting of your propeller is seemingly weak, be sure to take action and contact a local marine repair shop for help.
Metal Flake Repairs
No matter what kind of repairs you need, usually painting will be required. Our Boat Painting Experts can return your aluminum boat to its pre-accident condition at an affordable rate. The final touches on a boat aren't just for looks, a quality paint job will protect the entire boat and damages to that paint job can adversely expose your boat to further damage.
For any kind of Aluminum Boat Repair Services in Minnesota contact Anchor Marine at 763-972-3540.