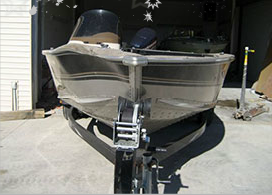 Before you store your boat for the winter, it's essential to inspect for potential aluminum damage. Untreated aluminum damage can lead to larger issues and may even prevent you from being covered by insurance. Anchor Marine Repair is the go-to aluminum boat body shop in Minnetonka (MN). Aluminum boats have earned a reputation for their strength and durability; some even go so far as to call them indestructible! Though this might be an exaggeration, aluminum boats remain popular due to their durability. Boat owners are drawn to aluminum vessels due to their strength and stability.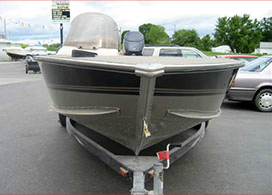 Aluminum boats can still be damaged. Damage from collisions with other vessels, debris in water or unexpectedly shallow spots could result in dents or the need for immediate attention. Strong storms also have the potential to cause harm by jostling your boat around and colliding it against docks where it's stored. Hailstorms also occasionally cause aluminum boats structural damage by igniting icy pellets quickly enough; although hail will not cause structural harm to aluminum boats, it may cause superficial cosmetic flaws.
We are proud to be recognized as the region's premier collision and storm damage repair provider. Every aluminum boat damage project we take on is completed in better condition than before the accident, as we have extensive expertise with all types of aluminum boats that can handle any level of damage. With over 45 years combined experience in boat repair, we know exactly how to fix aluminum boat issues quickly with state-of-the-art tools and resources. Contact us today for all your aluminum boat repair needs!
Boat Insurance Claim Assistance
Dealing with your boat insurance company about a claim can be intimidating and stressful. Our staff has extensive knowledge of all boat insurers, ensuring our clients receive fair treatment. We will assist you in filing the claim and perform an inspection to confirm the adjuster has accurately identified all aluminum boat damage.
Never store a boat with aluminum damage in Minnesota if you can help it. The expert staff at Anchor Marine will handle your aluminum boat's repair work with professionalism. No matter how badly damaged it has been due to collision, storm damage or years spent out on the water, our team will restore it back to its original condition so you can spend as little time as possible out of the water. Contact us today at (763) 972-3540 to request your free estimate or for insurance claim assistance, email service@anchormarinerepair.com, and don't let the damages slow you down!