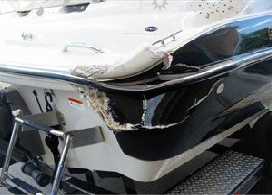 As the summer closes and the cooler weather begins, many boaters have been noticing structural and cosmetic damages to their boat. No matter how big or small your damage may be, we are here to help. At Anchor Marine Repair, we are your one stop repair shop for all of your boating needs. Our goal is to always repair your boat to better than pre-accident condition. If you are looking for a place to confidently perform your boat repairs, look no further than Anchor Marine Repair. Our technicians have all been with us for more than 10 years and our facility is second to none.
Best Boat Damage Repair Shop in Minneapolis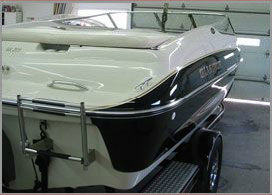 Maybe your boat collided with another boat or it skimmed the edge of the dock. No matter what the issue, our team of boating repair experts can fix it. We are #1 in storm and collision damage repair. We aim to not only restore your boat but even improve it to better than pre-accident condition. Are customers tell their family and friends that Anchor Marine Repair is the "Best Boat Damage Repair Shop in Minneapolis"
Our Team of Boat Collision Repair Experts
Our team of experts here at Anchor Marine Repair have a deep knowledge of repairing all different types of boats and have the experience that cannot be beat. Every technician here at Anchor Marine Repair has been with us for at least ten years. With over 45 years of combined experience, trusting us with your boat is easy. Our facility is state-of-the-art, allowing us to renovate, repair and refinish your boat in a timely manner. All of our technicians stay up to date with the latest technologies and techniques so that we can better serve our customers and provide quality boat repairs to everyone.
boat pickup and Delivery
Our site is located within Minneapolis but our work extends beyond that. For our customer's convenience, we offer pickup and delivery from your home or dock. This includes Lake Minnetonka, Central Minnesota and even the Western Wisconsin area. Once your boat has arrived, our shop offers 10,000 square feet of work space and allows us to accommodate boats that are up to 38 feet in length. We even have a 42 and 48 foot spray booth.
If your boat is in need of repair, don't look anywhere else. At Anchor Marine Repair, we will work with your insurance company to get you a quality repair at an affordable price. As always, our estimates and consultations are always free. For more information, contact Anchor Marine Repair today at 763-972-3540 or send us an email at service@anchormarinerepair.com.