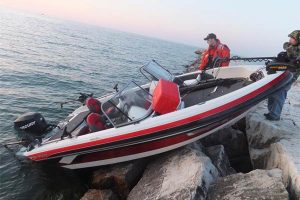 Are you looking for a reputable boat repair facility where you can feel confident leaving your boat for boat damage repair, painting and refinishing? Are you looking for an experienced boat repair shop that has a staff with a passion for boating, just like you? Are you looking for a boat shop that can help you get back on the water ASAP? Anchor Marine Repair is that place. We are frequently referred to as the #1 boat repair shop in Minnesota for collision and storm damage repair. We will get your back in pre-accident condition quickly so that you can get back out on the water, where you love to be. We are your one-stop shop for all of your boat repair needs.
#1 Boat Repair Facility In Minnesota
We repair fiberglass and aluminum boats, including pontoon boats and jet skis. Here are some of the many benefits you will get from working with our team:
● Our crew has 45 years of boat repair, collision repair, restoration and refinishing. We can handle big or small repair jobs and you can be confident that your repair will be done correctly. Each of our technicians has more than a decade of experience.
● We have a very large two building 10,000 square foot repair facility that can accommodate boats as large as 38 feet. This allows us to complete repairs more quickly and get the finished product back to you ASAP.
● We understand that it can be a hassle to bring your boat in and/or pick it up. So, we offer pick up and drop off services from your dock, home or marina.
● We offer free consultations and estimates so you will not have any surprises. Our pricing is competitive, and we are happy to work directly with your insurance company on your behalf.
● We focus on structural boat repair, restoration and refinishing. We use the highest quality boat repair products and tools and stay current on all technologies. This is our focus and our passion. Please note, we do not complete mechanical repairs.
● We will return your boat to you in better than pre-accident condition!
Storm Damage And Collision Boat Repair In MN And WI
Our facility is conveniently located in Delano, MN and we proudly serve those in the Lake Minnetonka, Central Minnesota and Western Wisconsin area. For more information about our boat repair services near you, give us a call at 763-972-3540.