Information on Fiberglass Boat Repairs: St Paul, MN

Whether boating on the Mississippi, St. Croix, or the Minnesota River in St Paul, MN there is always the possibility that you could damage your fiberglass boat. It's a good idea to become familiar with common boat damages and why it is important to address these problems as they occur. Skilled boat repair technicians like the ones at Anchor Marine Repair can help you restore the beauty and integrity of a fiberglass boat with affordably priced services.
About Fiberglass Boat Damage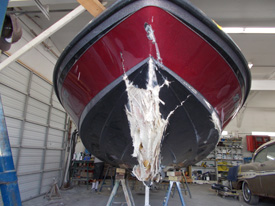 Many repair jobs on fiberglass boats are cosmetic in nature; gelcoat damage like cracking, dinging, and scraping can leave the boat vulnerable to further damage. Skilled boat repair technicians like St Paul, MN's Anchor Marine Repair can safely make permanent repairs using epoxy, a water-resistant product that is ideal for fiberglass products.
If the boat has been out of the water for some time, you may notice blistering in the gelcoat. Blistering is buffed away with an abrasion and fill technique.
Impact damage is when a boat hits a surface like a trailer or water in a hard manner leaving a fiberglass boat with cracking or crazing. These can get worse over time if not treated by a professional boat repair team.
Storm damage can take a toll on a fiberglass boat as well. Hail dings and water damage will occur from time to time but when these problems arise you can always rely on a professional boat repair team like Anchor Marine Repair. From interior to exterior repair, in most cases, storm damage is repairable and reversible.
Affordably Priced Services in St Paul, MN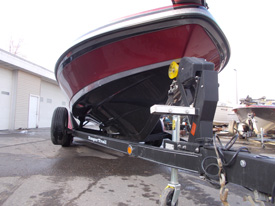 Anchor Marine happily offers free estimates on all types of boat repair services. As a locally owned small business, we do boat pick-up within a 250-mile radius of our office. We are also happy to accommodate boat drop-offs as well. Renovate and refurbish your fiberglass boat to its original shine and beauty, call the boat repair experts.  Tackle boat issues as soon as they appear and avoid costly problems later. Schedule a boat pick-up at our Anchor Marine Repair office at 667 Babcock Boulevard Delano, MN 55328. You can also call us at 763-972-3540 or email us at anchormarine@frontiernet.net. We look forward to hearing from you soon!