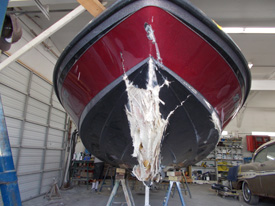 Taking care of your boat on a regular basis is a tall task. At Anchor Marine Repair, we cringe when we see boats not properly maintained. Purchasing a boat is a large investment, so you must commit yourself to applying regular maintenance on your boat if you are looking to keep it around for a long while. There may be times when the maintenance on your boat is too much for you to handle on your own. For instance, fiberglass gelcoat boat repair is something you should leave for the professionals to fix. If you are near the St Paul or Minneapolis, MN area, our expert boat repair team can handle all of your fiberglass boat repair needs.
Common Fiberglass Damage
There are some accidents that occur with your boat that you simply can't control. Running into debris that is not visible on the water is one of the most common boat damages that comes through our repair shop. While fiberglass holds up well most of the time, if not properly maintained it can break down over time. High and low temperatures, humidity, excessive sun, storm damage, old age and weathering can all cause fiberglass gelcoat to break down. Whether you have fiberglass damage on your boat, jetski or wave runner, our team with more than 45 years of combined experience has you covered.
Professional Fiberglass Repair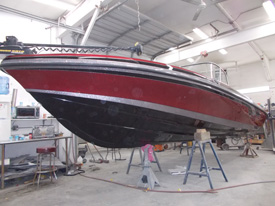 As an insurance approved boat repair shop, we take pride in the work that we provide boat lovers across Minnesota. With every boat that needs repairs, our goal is to bring that boat back to better than pre-accident condition. Whether you need fiberglass repair, restoration or refinishing, our team has you covered. There are reasons why we have been voted the #1 boat repair shop in the Minneapolis area, which includes our experience, hard working staff, elite equipment and high quality customer service. We're happy to work with your insurance company directly to try and make the insurance process more smooth for you.
Make a commitment to protecting your boat this season. If your boat, jetski or wave runner has fiberglass gelcoat damage that you have been putting off, it is time to put your faith in our repair team at Anchor Marine Repair. If you are near the Minneapolis or St Paul, MN area, give us a call today at (763) 972-3540 or email service@anchormarinerepair.com to request a free quote on our top of the line fiberglass gelcoat boat repair services.