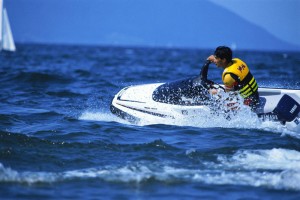 Someone once posed the question, 'have you ever seen a sad person on a jet ski?' We feel pretty confident at Anchor Marine Repair that if a person is riding their jet ski, happiness knows no bounds. However, if they're bringing it to the shop all busted up and broken during the middle of boating season, there's generally no smiles happening. Jet Ski lovers, do not fret! Your insurance approved jet ski body shop in Minnesota is here to save the day…or at least the rest of your boating season. If you are in need of jet ski repair, Anchor Marine Repair is the place to get it done.
Jet Ski Repair Shop MN
When you own a jet ski, chances are that you aren't getting it to wade in our land of 10,000 lakes. Heck no! You are ready to do some major riding! Jet skis are built for excitement and thrill out on the water. Unfortunately, with excitement and thrill also comes injury and damage. Jet skis do occasionally get damaged and can really put a damper on your season. When this happens, it can be very hard to find a place that knows what they're doing, knows how to fix your jet ski, can fix it quickly, and can also be an insurance approved jet ski body shop. Well folks, Anchor Marine Repair is your jet ski body repair shop that can do all of the above and return your jet ski to better than pre-accident condition.
Jet Ski Repair Minnesota
Jet Skis are built uniquely and can be very tricky to fix at times. There are a lot of tight spaces and unique differences depending on which brand you have. The professional technicians here at Anchor Marine Repair have a high understanding of how your jet ski ticks. We work on Kawasaki, Seadoo, Yamaha, Polaris, and Honda jet ski models. We also offer a convenient pickup and drop off option for those of you within a certain radius of our facility. Our long standing relationship with suppliers also helps us to get the right materials and tools we need quickly so that you are back out on the water enjoying the thrill and excitement of your jet ski for the remainder of boating season.
If you are looking for a jet ski body repair shop in Minnesota, look no further than Anchor Marine Repair. We are an insurance approved jet ski body shop in MN that offers affordable prices and efficient work and services. So be happy again and get your jet ski repaired today. After all, there's apparently never been a sad person on a jet ski! Give us a call today at (763) 972-3540 or email service@anchormarinerepair.com to learn more.