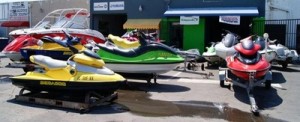 If you are like most people in Minnetonka, MN, you are sick of the cold weather and snow that we have dealt with over the last few months. Rest easy as warmer weather is quickly approaching. Not only does the weather get more manageable this time of year, but it also means that it is almost lake season! There is no better feeling than getting your jet ski back on the water for the first time of the season. However, is your jet ski as ready for lake season as you are? If you have a jet ski that needs some repairs, you still have time to call the professionals. Now is the time to partner with Anchor Marine Repair before the prime lake season begins!
Jet Ski Repair MN
A Jet ski is an expensive investment, so it is important that you put your faith in an experienced team of professionals when it comes to repairs. With Anchor Marine, you are partnering with the number one boat and jet ski repair company in the area. Achieving this honor is not easy. It comes from the 45 years worth of experience our staff has combined, and the fact that each of our technicians has been with us for over 10 years! That type of commitment is unheard of this day in age. Our experienced jet ski repair technicians make it a goal to give the jet ski back to the owner in better condition than it was in before the accident occurred.
Jet Ski Repair Services
State of the Art Facility

– Our work space consists of 2 buildings that total 10,000 covered square feet. This allows us to tackle multiple repair projects at the same time. No matter what type of repair you need, we have the parts and expertise to get the job done.

Pick Up and Drop Off

– One of our most unique opportunities for customers is our pick up and drop off service. Our staff will pick up and deliver your jet ski as long as you are within 250 miles of the Minneapolis and St. Paul area.

Insurance Options

– Our team does not shy away from working with insurance providers. Instead, we are happy to work with any insurance provider and will do our best to make sure that you get treated as fairly as possible.

Diverse Experience

– We have worked with and can repair all makes and models of jet ski's. We will have your water toy running like normal in no time!
So, if you live in Minnetonka, MN, and are in need of jet ski repair services before lake season begins, call Anchor Marine Repair today! Contact us at (763) 972-3540 to learn more about our repair services.