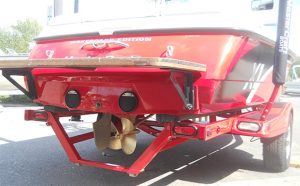 A boat's propeller is one of its very most important parts and is critical to its overall functionality. A propeller is a fan mechanism that transmits power and allows your boat to move. When it is damaged, you are forced to take your beloved boat out of the water and have it repaired or replaced. If you live in the Minnesota area, look no further than Anchor Marine Repair for a propeller repair or replacement. We understand and share your love for boats and you can trust our team to complete all propeller repairs quickly so that you minimize the time spent in the repair shop and maximize your time out on the water.
Importance of Propeller Repair
There are many different causes of propeller damage. Your propeller functions submerged under the water and can brush up against many obstacles in the course of a very normal boat ride. Your boat's propeller simply takes a real beating over time. Normal wear and tear combined with an occasional encounter with a rock or other underwater debris can cause mild to moderate damage that requires immediate repair. If your propeller is damaged, you may feel that your boat is out of balance or feel vibration indicating a problem. A more serious collision can damage the propeller badly enough that a full replacement is the best course of action for your boat.
No matter whether the damage to your propeller is minor or significant, the crew at Anchor Marine Repair is ready to help. Our technicians have the experience and the skill to make the necessary repairs so that your boat is in full working order. Propeller work is tedious and takes a very careful eye. Our team has a combined 45 years of experienced with propeller work on many different types of boats. We are committed to restoring your boat's propeller to its original factory specifications so that you can take it back out on the water with confidence.
MN Leading One-Stop Boat Repair Shop
Anchor Marine Repairs makes it easy to transport your boat to our state of the art facility in Delano, MN. We offer boat pick up and delivery and 10,000 square feet of working space. That makes us the #1 boat repair shop in the area. For more information about propeller repair or replacement, call us at 763-972-3540 or email service@anchormarinerepair.com.