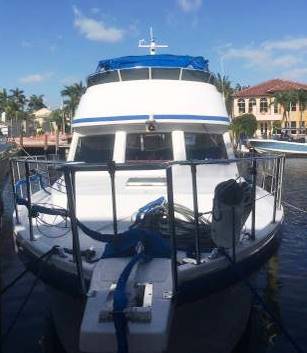 Trawler boats are perfect if you want to take a long, leisurely boat ride. Trawlers offer lots of space, are fuel efficient and are ideal for those looking for day cruising, overnight cruising, and spending time with family and friends. When your trawler needs to be repaired or restored, you want to partner with a boat repair company that you can trust. After all, you purchased your trawler so that you could spend time on the water, not in the repair shop. Anchor Marine Repair is the leading boat repair and restoration service in Minnesota. Infact, we service clients from all over the US.
Our team loves boats as much as the boat owners that we serve. We have experience working on a wide variety of boats – including Trawler boats – and can get your boat back on the water fast, without breaking the bank. Each of our technicians has been with us for more than a decade and brings experience, expertise and passion to our boat repair jobs. We have a two building facility with more than 10,000 square feet of workspace that can accommodate even large Trawler boats. We have two spray booths which means that we can complete the repairs on your boat and get it back on the water fast. Our technicians also use the best tools, equipment and techniques so that the repairs and renovations to your boat will be done well, the first time.
Trawler Boat Restoration Shop
Anchor Marine Repair can complete all types of boat repair, restoration and renovation. We are experts at restoring boats after storm damage and/or an accident and getting them back to their pre-accident condition quickly and for an affordable price. Even if your boat has not been involved in an accident but you are ready for updates or replacement parts to keep it looking its best and functioning well, our team can help you there too. We replace carpet, flooring and mechanical parts when needed. No job is too big or too small for the team at Anchor Marine Repair.
Experienced Trawler Boat Repair and Restoration
We also make getting your boat to us simple and easy. We offer pick up and delivery services, so you do not have to transport your boat to and from our facility yourself. Now is a great time to have us take a look at your Trawler boat and complete any necessary repairs and restoration. Call the Anchor Marine Repair team today at 763-972-3540 to schedule an appointment.