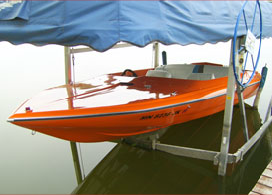 Is your boat looking more and more worn every year? Are you starting to wonder what color it used to be, or whether it was always that yellow-looking? Are you thinking it might be time to invest in a new boat because yours just doesn't appeal to you anymore? Unfortunately, many long-time boat owners reach with point with their boats, and they often think that the only way forward is to invest in a brand new boat, or even a less-used boat than the one they own now, that will give them the exhilarating feeling of owning a new boat again. But at Anchor Marine Repair, we know that even the oldest boats can be remade into beautifully restored boats with simple restorations, sometimes as simple as a new paint job. If you're in need of boat painting and boat restoration, look to our experienced Minnesota boat repair specialists.
Boat Painting and Boat Restoration to Improve Dock Appeal
Improving dock appeal in old and worn boats can be a crucial part of keeping you satisfied with your trusty boat's appearance. If your boat is looking a little worse for wear these days, a restorative paint job may be exactly what your boat needs to make it shine like new again. There's no need to feel disappointed in your boat, pine for a new boat that you can't afford, or get rid of a perfectly good boat just because of its appearance, and if all your boat needs is some simple boat restoration like a new paint job, why not try to simply improve your boat's dock appeal?
Increase Boat Value with a New Paint Job
One of the main reasons boat owners invest in new boat paint jobs is to increase the value of a boat without having to make huge adjustments. If you're thinking of selling your boat, a new paint job can go a long way toward making your boat look like new and increase the value of your boat for resale. If you want a professional-grade boat paint job, though, be sure to hire only the best professional boat restoration company for your boat painting needs so that your boat really does look like new.
Boat Paint Refurbishing for Boat Repairs
When you come to Anchor Marine Repair, our Delano, Minnesota boat painting and restoration specialists will help ensure that your boat receives the professional paint job it deserves and needs to improve dock appeal and increase boat resale value. Call our Minnesota boat painting company at 763-972-3540, or email service@anchormarinerepair.com, and reap the benefits of a new boat paint job. We'll pick up and deliver boats anywhere in Minnesota of our boat repair shop, which means that we're known all over the state as a reliable boat restoration company for boat paint jobs and any other boat restoration and repair services you need.