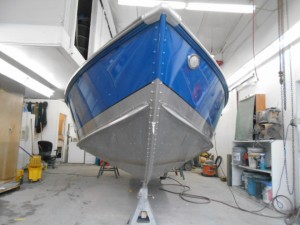 Before you put your boat up for the offseason, it's important to inspect it for any potential aluminum damage that needs to be addressed. Leaving the aluminum damage unaddressed can cause bigger issues for you and it may disqualify you from being able to run the damage through your insurance provider. Whether you have a lot of aluminum boat damage to address or just some minor damage, our team at Anchor Marine Repair should be your number one boat repair shop choice in MN. The end result for all of our clients is that we will repair your aluminum boat damage to better than pre-accident condition.
The Right Team for the Job
There are quite a few reasons why we've been voted the number one in storm and collision damage repair in the area. As mentioned, with every aluminum boat damage repair project that we take on, we make sure that the boat is repaired to better than pre-accident condition. Additionally, we have experience working on a wide range of aluminum boats and there's no level of aluminum boat damage that our team can't handle. With more than 45 years of combined boat repair experience on staff, we've seen it all when it comes to aluminum boat damage. Using the best tools and resources available, we'll have your aluminum boat repaired in a timely manner.
Insurance Claim Assistance
Dealing with your boat insurance company regarding a claim can be stressful and intimidating. Our staff works with all of the boat insurance companies around and we make sure that all of our clients are fairly treated. We can help you with the insurance claims process and we will also provide our own inspection to ensure that all of the aluminum boat damage is identified by your insurance adjuster.
If you have a boat in MN that has some aluminum damage, don't put your boat up in storage without addressing the repairs. Team up with our experienced staff at Anchor Marine Repair and let us repair your aluminum boat to better than pre-accident condition. To request a free aluminum boat damage estimate or to get insurance claim assistance, give us a call today at (763) 972-3540 or email service@anchormarinerepair.com.