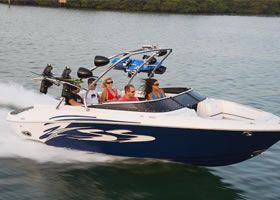 Although our winter is just beginning, here at Anchor Marine Repair, we are focused on getting your boat repaired for the spring. If your boat was damaged last season or even damaged during a winter storm, Anchor Marine Repair can help repair your precious gem and get it looking right for spring. We are your one stop repair shop for all of your boat repairs needs.
Our Boat Repair Experts
While some may count down to the days before Christmas or the seconds before the ball drops on New Years, we enjoy counting down the days and seconds before boating season is back! If you are as dedicated to the boating season as we are, then we know that you'll need your boat in tip top shape before the spring. We understand the importance of quick turn around times and excellent work because we love boating season just as much as you! We are your number one boat repair shop in Minneapolis because of our deep love and commitment to our boats. When a boat comes in with damage to the body, our skin crawls with excitement over repairing and refurbishing them! Each technician on our team has been with us for at least 10 years, giving our shop over 45 years of combined experience in boat body shop repairs.
Body Shop Repair
The body of the boat is an integral part of how it works. If the structure of your boat is damaged, it may not even be able to float! Anchor Marine Repair can do just about anything to get your boat looking like new again. We have a 10,000 square foot state-of-the-art facility that can accommodate boats up to 38' in length. We have the right tools, equipment and technicians that can handle anything from a simple paint job to major structural damage on a larger boat. Even if you have a unique or foreign model, we have excellent parts and product suppliers that can ensure a fast delivery so that everything we need to perform your boat body shop repair is done quickly and efficiently.
So if your boat needs repairing, we are the only place to call! We offer free estimates and consultations for anyone looking for boat body repairs in the area. We offer pickup and delivery for anyone. So don't delay a second longer, call Anchor Marine Repair today at 763-972-3540.