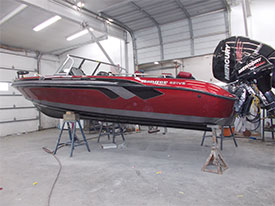 If you're like most people, you take great pride in how your boat appears; your boat is like your baby. But as all boat-lovers know, a long season on the water can take its toll on your boat. In a lot of cases, you may need to re-paint your boat and add in some repairs to keep it looking good and water-ready for summer time because, believe it or not, scientists have confirmed that summer will come!
From the engine room to the hull paint, proper care and maintenance will extend the life of your boat throughout the season and beyond. One of the best ways to save both time and money is to work with your boat repair company to prepare a proper work plan to help maximize time spent out of the water. A well-planned strategy and a long-term maintenance program will help the shop get more done with less time. If owners wait too long to make their maintenance appointment, they could end up having to take a trip to the shop during peak operational times.
Schedule Boat Maintenance in Advanced
Schedule maintenance well in advance and put in on a calendar, or set a reminder on your cell phone. If maintenance is not planned out without enough time – even a year or two ahead – boat owners might realize that there isn't enough space and have to put any or all maintenance on hold, or go further away from home, both of which increase costs.
Prepare for the Unexpected
Weather can always be an issue– no matter if it is in the middle of December, or in the middle of July. A shop that can include both indoor facilities and outdoor vessel covers will help protect vessels as they're being repaired.
One of the goals of regular inspections and maintenance is to spot and fix problems while in the shop, so boat owners don't have to deal with them during the fishing/recreational season. In order to ensure boats are water-ready in time, leave as much time as possible between the scheduled maintenance and the start of the season in order to address any unexpected issues.
Is your boat in need of repairs or a repaint? Call Anchor Marine Repair today at 763-972-3540!