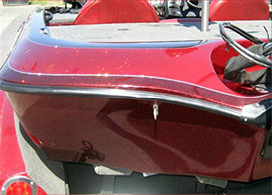 Your boat is one of your biggest investments, and not being able to use it when desired can be frustrating. If your vessel has been damaged or is not water-ready for the season, Anchor Marine Repair is here for all your boating needs. As an all-inclusive shop for all marine needs, we specialize in fiberglass repair, metal flake repair and aluminum boat repair for vessels with structural damage due to collisions or storms. Our staff has an enthusiasm for boats that rivals that of many of our customers – each technician on staff having been part of our team for over a decade! Our expertise, skill set, and passion have served our customers directly over that time!
When properly cleaned and maintained, marine-grade paint on metal or fiberglass boats should remain glossy and vibrant. Unfortunately, over time due to constant use, exposure to elements, and general wear-and-tear on the surface, these protective layers may oxidize and dull. If your boat's finish has faded or damage has occurred to it and now requires new painting, Anchor Marine Repair in Delano, MN offers expert restoration services for metal flake or poly flake restoration projects.
Metal flake is the name for the paint used on boat hulls that's applied in layers directly onto metal. There are various colors available. After applying a determined number of layers onto raw subsurface, topcoat, or gel coat, can be added. This clear lacquer protects and adds that glassy look so many are familiar with. Unfortunately, as with any layer or coating, its integrity erodes over time due to use and exposure to elements; leaving exposed metal flakes behind and beginning to break down too quickly.
Reversing Oxidation On Metal Flake Paint
When your boat's finish begins to look dull and worn-looking, it is likely due to oxidation. There are steps you can take to protect its finish if you start early enough; one simple way is keeping the surface clean with each return from the water. Rinsing away surface grime or thoroughly cleaning a boat before waxing can often help. If this approach doesn't provide ideal results or if deterioration has already set in, waxing usually provides good results.
Metal Flake Restoration And Repainting
When your boat's damage is beyond repair and you need professional help, Anchor Marine Repair is the perfect choice! We offer pick up and drop off services as well as years of experience painting boats, performing metal flake repair and gel coat restoration. Call (763) 972-3540 or email service@anchormarinerepair.com to discover how we can make your vessel shine like new again!