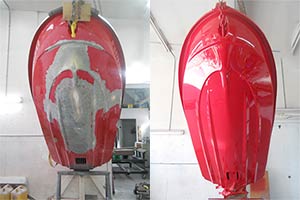 While it may be tempting to add a new layer of paint to your boat, you shouldn't have to do this every time you need to freshen up its look. Instead, concentrate on boat paint restoration. There are ways to restore boat paint with minimal investment. At Anchor Marine, we work with our customers to obtain the finest results.
There is no amount of polishing or compound will help with your fiberglass and paint if you don't start off with a clean boat. Be sure to clean off your boat with a proper marine-grade cleanser and remove any old adhesives or stickers with adhesive or sealant removing compounds.
Invest In A Good Power Buffer
Since there is a good amount of surface area to cover, you'll likely wear out your hands and wrists. Consider investing in a power buffer or rent one from an equipment store to get the job done with ease.
Fiberglass Compound
Fiberglass compounds are built to restore the quality of your fiberglass, removing oxidation and stains, without affecting the underlying gel coat. If you use a marine-grade cleanser by itself, you will not achieve the same results. Buffing the fiberglass compound into the hull will do a great deal in restoring the quality of the fiberglass and its paint.
Long-Term Preparation Of A Boat's Paint
To make sure that your paint maintains its quality, consider investing in the following products:
● Color restorer – which will remove oxidation, chalking, and fading without damaging the boat itself, and will prep the boat's surface for waxing.
● A marine-grade wax product – which is a great solution to protect your paint and prevent fading due to UV damage.
Owing to the time and labor that you need to invest in the detailing project may not be your best option, especially if you have a tight schedule. Hiring a professional boat detailing company to do the work will be most beneficial in this case. Moreover, working with professionals also comes with regular service and maintenance to mitigate oxidation. Hence, it takes the hassle off your hands, giving you peace of mind.
With a passion for boats and a love for repairing and refurbishing them, Anchor Marine in the greater Minneapolis/St. Paul market specializes in the repair and refurbishment of fiberglass, aluminum surfaces. From boat painting to new floors and transoms, we can get your boat hull looking like it just rolled off the showroom floor, or better! To restore your fiberglass boat to its former glory, call the boat repair, renovation, and refurbishing experts at Anchor Marine Repair today at 763-972-3540. Estimates, pickup, and delivery services are always free.